Fifa boss Blatter calls on President Michel
30-December-2011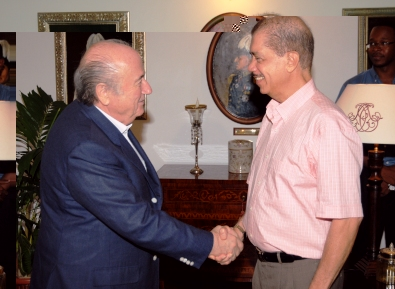 He was accompanied by Community Development, Youth and Sports Minister Vincent Meriton, Seychelles Football Federation chairman Suketu Patel and vice-chairman Roch Henriette.
Blatter, who took the post of Fifa president in June 8, 1998, succeeding Brazilian Dr João Havelange, is being accompanied here by his wife and will be in the country until January 4, 2012.
President Michel, who is also the Seychelles Football Federation patron, exchanged views on the development of football in Seychelles with Mr Blatter.
The Fifa president spoke about the universal appeal of football as well as the values of respect, discipline, fighting spirit and fair play that it inspires in people of all ages.

Mr Blatter also praised the beauty of the Seychelles islands and the tranquility that he enjoys here.