VP Faure urges departments to copy well-governed DPA
30-December-2011
He commended the 63-strong DPA for good self-administration and urged other departments to mimic its example, adding its ability to resolve internal issues without his direct intervention left him the time and energy he needed to concentrate on others that also fall under his portfolio.

Mr Faure made the remarks during the department's end-of-year gathering where he presided over a ceremony to reward five long-serving staff members.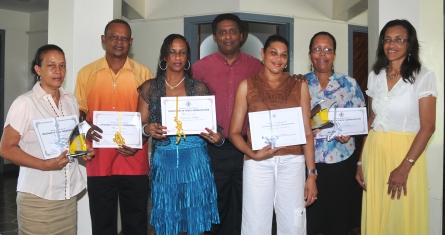 Lauranne Barbier and Winnie Roseline were rewarded for their 30 years' service while Alain Estro, Sylvianne Sopha and Georgina Adam got their tokens of appreciation and certificates for 20 years' service each.
Thirteen staff members who were deemed to have "gone the extra mile", for example by working during weekends and after office hours, were also recognised.
They are Alain Cesar, Alain Estro, Marie-Ange Charlot, Marie-Antoine Gilbert, Marie Peddoo, Jenita Dogley, Francesca Florentine, Vivienne Balette, Floria Cesar, Eva Bamboche, Suzanne Dubignon, Judy Max and Terry Rose.
The principal secretary in the department, Jessie Esparon, thanked all the staff members "who helped the organisation move forward this year".
"We are here to celebrate the hard work and dedication of those among our staff who have for many years served in the public service," she said, referring to the awardees and the 13 whom she said have been offering extra and ready service including organising yesterday's function.
Mrs Esparon said the department gets many requests and it should strive to be an example to the rest of the public service.
"Our partners expect us to find solutions for all the problems they refer to us," she said.
She said criticism levelled against the department for enforcing regulations should not make them afraid.
"On the contrary we should stand strong with our heads high to bring out good values and practices to make the entire public service proud," she said.