Sports year in review 2011-Fans savour unprecedented good results
30-December-2011
The hosting of the 8th Indian Ocean Island Games (IOIG) from August 5-14 and the athletes' ability to surpass themselves to win a record-breaking 57 gold medals in the 12 sporting disciplines – helping the country finish an unprecedented second in the final medals' table behind Reunion with 58 medals of the gold hue – have left a lot of good memories.
The local athletes demonstrated that they could perform under pressure, grinding out wins when many thought they would lose.
More than half of the country's goal medal tally – 30 – was won by weightlifters on the platform of the International Conference Centre. The tripe gold medallists were Steven Baccus, Elvis Jeanne, Elvis Siméon, Janet Georges, Katsia Télémaque, Julie Matatiken, Ruby Malvina, Charles Siméon, Terrence Dixie and Ian Rose.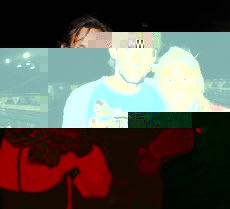 Female swimmer Shrone Austin won five of swimming's six gold medals in the 400m freestyle, 200m butterfly, 800m freestyle, 200m individual medley and 400m individual medley. Male butterfly specialist Bertrand Bristol got the other swimming gold.
In track & field athletics, female high jumper and heptathlete Lissa Labiche claimed two of the sport's five gold medals, while Lindy Leveau-Agricole (javelin), William Woodcock (high jump) and special athlete Rosie Corallie (shot put) got one each.
Members of the badminton team reaped four gold medals through Georgie Cupidon (men's singles), Georgie Cupidon and Steve Malcouzane (men's doubles), Cynthia Course and Alisen Camille (women's doubles) and Cynthia Course (women's singles).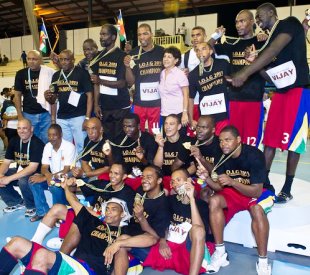 Captained by veteran swingman Cyril Agrippine and with France-based 2.05m professional centre Abdel Sylla in devastating form, the men's basketball team clinched the elusive gold medal – 18 years after clinching the silver medal in a final loss to Madagascar inside the same Palais des Sports. Darren Lesperance, Steven Servina, Daniel Victor, Nigel Sinon, Reggie Ah-Kong, Bernard Bristol, Robert Léon, Neddy Fanchette, Amadou Sylla and Dominique Pillay also formed part of the team.
Boxers Andrique Allisop (56kg category), Kitson Julie (69kg category), Jovet Jean (75kg category) and Keddy Agnes (81kg category) won a gold medal apiece to help Seychelles reclaim the king of the Indian Ocean title it had lost in Reunion in 1998.
In sailing, Roy Govinden (Laser Radial men), Allan Julie (Laser Standard men) and Bertrand Lablache (windsurfing) gave Seychelles three more gold medals, while the men's football team of Nelson Sopha, Vincent Euphrasie, Eugene Valentin, Jonathan Bibi, Nigel Freminot, Allen Larue, Ronny Marengo, Jones Joubert, Nelson Laurence, Trevor Poiret, Henny Dufresne, Don Anacoura, Brian Dorby, Gervais Waye-Hive, Archille Henriette, Karl Hall, Alex Nibourette, Wilnes Brutus, Alpha Baldé and Kevin Betsy triumphed for the first time – 32 years after losing to hosts Reunion in the final of the inaugural Games in 1979.
Female table tennis player Anniessa Benstrong won the sport's first ever gold in the history of the Games, by beating an opponent from the Maldives in the women's singles final.
After relinquishing the gold medal to Reunion in Madagascar in 2007, the women's volleyball team of Nathalie Agnes, Marielle Bonne, Sandra Joseph, Terille Songoire, Maya Biong, Marie-Claude Rose, Tina Agathine, Annie Appasamy, Flora Lesperance, Samantha Eugénie, Kelly Matombé and Virginie Richard reclaimed the gold medal, making it their third triumph after past wins in 1998 and 2003.
Like the women's volleyball team, the men's side, comprising Ian Furneau, Rodney Ah-kong, Jude Frederick, Guilly Bijoux, Bernard Bijoux, Benjamin Bijoux, Kenneth Sinon, Percy Riaze, Ricky Vel, Paul Rose, Jones Mangroo and Perrin Sophola, made it a second gold-medal win after claiming it for the first time in 1993 – the first time Seychelles hosted the Games.
Seychellois athletes also won 24 silver and 36 bronze medals at the Games.
Julie All-Africa Games' gold medallist
There was nothing Mickey Mouse about the Seychellois athletes' ability as they still found enough in reserve for a fabulous coup de grâce at the 10th All-Africa Games in Maputo, Mozambique from September 3-18, amassing 11 medals – one gold, two silver and eight bronze – after 15 days of competition.
Sailor Allan Julie won the country its only gold medal in the Laser standard class.
The two silver medals came in badminton and were won by the pair of Georgie Cupidon and Alisen Camille (mixed doubles) and the duo of Alisen Camille and Cynthia Course (women's doubles).
The bronze medallists were: Georgie Cupidon and Steve Malcouzane (badminton men's doubles), Georgie Cupidon, Steve Malcouzane, Kervin Ghislain, Alisen Camille, Cynthia Course and Danielle Jupiter (mixed team event), Rodney Govinden (Laser standard), Shrone Austin (swimming 800m freestyle and 1,500m freestyle), Lissa Labiche (women's high jump), Lindy Leveau-Agricole (women's javelin) and William Woodcock (men's high jump).
Seychelles finished ahead of 17 medal-winning countries including hosts Mozambique who finished 24th with four silver and eight bronze medals.
Athletics records
In athletics, Lissa Labiche, who brought the Seychelles women's high jump record to 1.82m, claimed two gold medals in the women's high jump (1.75m) and long jump (6m) at the Kenya National Athletics Championships at the Nyayo Stadium, in Nairobi.
Labiche's medals – a silver and a bronze – propelled Seychelles to 18th out of 25 countries in the final medal standings at the 10th African Junior Athletics Championship at the UB Stadium in Gaborone, Botswana. She won her silver medal in the high jump with a height of 1.70m and finished third overall in the heptathlon to win the bronze medal with a total of 4,663 points.
Jumps specialist Janet Boniface hopped, stepped and jumped over a new distance of 12.95m for a new Seychelles women's triple jump record and the gold medal.
Marie-Helen Rose was Seychelles' only medallist with a silver in the javelin throw – a distance of 37.20m – at the Confederation of African Athletics (CAA) Southern Region Youth Championship reserved for under-18-year-olds and held at the Independence Stadium in Windhoek. The distance is a Seychelles youth record.
Belle, Seychelles' second ATO
Fabien Belle became Seychelles' second area technical official (ATO) after being successful at the exams taken at the end of the level two officiating course he followed in Kenya.
Seychelles' other ATO is Giovanna Rousseau who was bestowed the International Association of Athletics Federations (IAAF) Plaque of Merit for her enormous career-long contributions to the success and the development of athletics in Seychelles and in Africa.
She received the plaque from IAAF president Lamine Diack at the start of the 48th IAAF congress in a colourful and spectacular ceremony held in the Grand Ballroom of the Exco-Hotel in Daegu, Korea.
Speaking to Sports Nation via email when still in Daegu, Rousseau said she was "deeply honoured the Confederation of African Athletics (CAA) nominated me as the recipient of the IAAF Plaque of Merit."
In football, local Caf and Fifa coaching instructor Ulric Mathiot successfully completed the Caf Instructors' course and now holds the continental 'A' licence.
Suketu Patel swept to his second term in office as president of the Council of Southern African Football Associations (Cosafa) after his only rival for the post Danny Jordaan withdrew his candidature.
Seychelles was represented by four officials with various levels of international experience at the 10th All-Africa Games in Maputo, Mozambique. They are Derrick Andrew (volleyball), Vanessa Créa (badminton), Lucas George (cycling) and Bernard Camille (football).

While in Maputo, coach and DTN Lucas Georges entered the Games' history book by becoming the first ever African official to be appointed as chief commissioners, replacing the European officials at the nine previous Games.
Initially selected as a technical delegate by the Confederation of African Cycling (Cac) under the banner of the Union Cycliste International (UCI) team, Georges was then promoted to the top post based on his qualifications and experience. He also chaired meetings of commissioners and helped work on recommendations submitted during the Games.
Seychelles' cricket leaves good impression
After integrating the gentleman's game's international family in 2010 when Seychelles Cricket Association (SCA) became the 105th member of the ICC, Seychelles' cricket left its mark on the world stage.
The Seychelles cricket selection took part in the International Cricket Council (ICC) World Twenty20 2012 Africa Division 3 qualifiers for the first time. Newcomers to the world stage, Seychelles left a good impression by reaching the Africa Division 3 final, losing by 8 runs to Rwanda to miss out on the ICC Africa Division 2 tournament in Benoni, South Africa, in April.
In the final at the Achimota field in Accra, Ghana, the Rwandans batted first and put on a total of 125 for 4 in their allotted 20 overs, but Seychelles fell off their target with 117 for 7, although Shiva Nagaraja made 41 off 58 balls and Harikrishnan Kamalan hit 39.
With his 39 runs in 40 balls and 1 wicket in 2 overs for 11 runs in the final, Kamalan took the man of the match award.
Playing in group B, the Seychelles team won their three matches. They batted first against Mali in their opener and did very well to finish with an impressive 161 runs in 20 overs for the loss of 7 wickets for a 60-run win. Krishna Naidoo made the highest contribution with 47 runs, while Kamalan added 45 and Shiva Nagaraja 30. Mali got only 101 runs in 17.4 overs all-out.
Seychelles' captain Kaushal Patel was named man of the match because of his bowling, taking 4 wickets in his spell of 4 overs and conceding only 11 runs.
The team's second victory was against Gambia by 15 runs. Again batting first and scoring 85 runs in 10 overs, Seychelles' Kamalan and Tim Horpinitch finished with 30 runs apiece. In reply, Gambia were 70 all out.
Man of the match was Arvind Bhuva, who took 5 wickets (including a hat-trick) in 3 overs for 8 runs.
Against Morocco in their third and final pool match, Seychelles were asked to bat and they set a very competitive score of 164 for 4. Kamalan got 55 off 75 balls and Sandesh Kunder got a quickfire 46 off 38. Morocco were eventually dismissed for 103.
After scoring 55 runs in 53 balls, and taking 5 wickets in 4 overs for 12 runs, Kamalan was named man of the match.
Other than his two men of the match awards, Kamalan was named man of the series after scoring 150 runs and taking 8 wickets in 4 matches. Bhuva was the best bowler of the tournament with 10 wickets in 4 games
Fanchette's four-gold-medal win at Jeux de l'Espoir
At the 3rd Jeux de l'Espoir in Mauritius, young Seychellois athletes won 15 medals — 7 gold, 3 silver and 5 bronze.
Female swimmer Aurelie Fanchette won four gold medals and the best athlete title with 2,810 points. She won the 50m butterfly (34.59 seconds), 50m backstroke (37.97 seconds), 50m breaststroke (43.20 seconds) and 50m freestyle (30.90 secondes) in one day.
Athlete Aaron Tirant (300m), female judoka Jessy Malbrook (-57kg category) and boxer Dino Magnan (43kg division) were Seychelles' other gold medallists.
Swimmer Dean Hoffman won a silver medal in the 50m backstroke and three bronze in the 50m butterfly, 50m breaststroke and 50m freestyle.
Female athlete Elzra Almaze finished second in the 300m race for the silver medal and male judoka Jean-Michel Vidot was also ranked second in the 46kg class.
The other two bronze medallists were boxer Lorenzo Bonne and female table tennis player Stephanie Hoareau in the singles event.
Hyundai retain Seychelles Regatta title
The crew of the Hyundai boat celebrated victory in the third Seychelles Regatta to confirm their place in the pantheon of Seychelles' sailing.
After finishing seventh on the Seychelles Breweries boat last year, Jérémie Beyou replaced Yann Eliès on the Hyundai boat this year and he was full of praise for the all-Seychellois crew who sailed with verve and determination to retain the title won for the first time last year.
"They are just marvelous. I did not do much on the boat. They know it very well and Seychellois skipper Mervyn Cafrine did a great job of charting the courses," said Beyou.
In boxing, local fighters Keddy Agnes (81kg) and Jovet Jean (75kg) lost their semifinal bouts at the 17th African Senior Boxing Championship in Yaounde, Cameroon to win a bronze medal apiece.
At the Zone four Senior Boxing Championships at the Botswana College of Agriculture (BCA) in Gaborone, Jovet Jean (75kg), Keddy Agnes (81kg) and Ronny Legras (91kg) walked out of the ring second best after losing their bouts in the finals to settle for three silver medals.
Meanwhile, young male tennis player Damien Laporte competed in France and won the Bazeige and Auzielle tournaments reserved for under-10-year-olds.
Good harvest for special Olympians
The Seychelles team harvested 12 medals – three gold, six silver and three bronze – in track and field athletics at the XIII Special Olympics World Summer Games, in Athens, Greece.
The gold medallists were Regis Duval in shot put (8.8m, division M15), Serapiona Nibourette in shot put (5.39m, division F12) and Suzie Sarakiya in the 100m race (20.66 seconds, division F38).
Duval was once again on the medals podium at the end of the 100m race, winning a silver with 14.91 seconds in the M32 class.
Andy Labrosse was the soft ball throw silver medallist with (17.65m, division M9), while Andy Laporte claimed two silver in the 100 walk (52.23 seconds, division M5) and soft ball throw (11.25m, division M6).
Natifa Nourrice won herself two silver medals in the 200m race (35.11 seconds, division FO5) and 100m race (16.76 seconds, division FO7).
The three bronze medals came from Kenny Ah-Kon in the 200m race (29.92 seconds, division M13) and Kareen Renaud in the 50m race (9.98 seconds, division F1) and soft ball throw (12.24m, division F2).
Baldwin Ironman Western Australia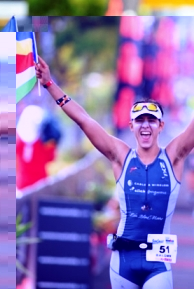 Ironman Nick Baldwin had a successful 2011 season. He was the winner of the 18-24 age category of the Ironman Western Australia raced in Busselton, in the south of Perth, with personal best times of 54 minutes 31 seconds (54:31) in the 2.4-mile (3.8km) swim, 4 hours 49 minutes 20 seconds (4h49:20) in the 112-mile (180km) cycling and the overall time of 9h10:24.
The 23-year-old's previous overall best time was 9h18:15 achieved in Kona, Hawaii where he finished second in the 18-24 years old category of the Ford Ironman World Championships.
The win in Busselton also assured him of a third successive involvement in next year's Ford Ironman World Championships in Kona, Hawaii.
Baldwin also won the 18-24 age group category of the 7th Spec-Savers Ironman South Africa at the Nelson Mandela Bay in Port Elizabeth, South Africa.
Meanwhile, Praslinois windsurfer Jean-Marc Gardette finished on the medals podium – third spot – at the SIM 30th Singapore Open Windsurfing Championship.
In six races over two days, Gardette amassed 27 points after getting two second places, one fourth place, two sixth places and one seventh place in the open class.
Lifters win astounding 29 medals
At the African Senior Championship held in conjunction with the Commonwealth Youth, Junior and Senior Championship, Seychellois lifters won an astounding 29 medals.
Elvis Jeanne and Janet Georges each won three gold medals in the African senior championship and a silver apiece in the Commonwealth senior championship on the platform of the Good Hope Centre in Cape Town.
Jeanne snatched 127kg and clean & jerked 159kg for an Olympic total of 277kg in the 105kg category. His total lift of 277kg earned him the silver medal in the Commonwealth senior championship.
Georges completed a clean sweep for the fifth time in the women's 69kg division, finishing with an Olympic total of 206kg (snatch 96kg and clean & jerk 110kg) to also win the Commonwealth senior championship silver medal. Georges' other sweeps came in Nairobi, Kenya in 2002, Kampala, Uganda in 2005, Casablanca, Morocco in 2006 and Yaoundé, Cameroon last year.
Seychelles' other medallists in Cape Town were: Sirous Farabeau (three silver medallists in the African senior championship – Olympic total of 187kg with 82kg in snatch and 105kg in clean & jerk in the 85kg category and a silver in the Commonwealth youth championship), Charles Siméon (Olympic total of 225kg for a silver, 110kg in snatch for bronze and 145kg in clean & jerk for silver in the 77kg category), Rena Agricole (three bronze medals in the African senior championship – Olympic total of 125kg with 60kg in snatch and 65kg in clean & jerk in the 63kg division and a silver medal in the Commonwealth youth championship), Ruby Malvina (three silver in the African senior championship with 163kg after snatching 70kg and lifting 93kg in the clean & jerk of the 58kg category), Rick Confiance (three silver in the senior 56kg category of the African senior championship after snatching 75kg and getting 90kg in the clean & jerk for an Olympic total of 165kg), Katsia Télémaque (three silver in the 48kg category of the African senior championship after snatching 65kg and finishing with 79kg in the clean & jerk for a 144kg total. The same performance won her a bronze medal in the senior Commonwealth Championship) and Ian Rose (three bronze medals in the 69kg category of the African senior championship after snatching 105kg and lifting 130kg in the clean & jerk event for a total of 235kg).
The Seychelles men's team finished runners-up behind hosts South Africa in the overall ranking in Africa, while the women's were ranked third behind South Africa and Nigeria.
--------------
Seychellois medallists at the 8th Indian Ocean Island Games from August 5-14, 2011
Athletics – 16 medals: 5 gold, 6 silver and 5 bronze
Lissa Labiche (2 gold medals in high jump and heptathlon)
Lindy Leveau-Agricole (1 gold in javelin)
William Woodcock (1 gold in high jump)
Rosie Corallie (1 gold in shot put, handisports mental)
Men's 4x100m relay team of Mervin Loizeau, Neddy Marie, Leeroy Henriette and Danny D'Souza (1 silver medal)
Leeroy Henriette (1 silver men's 200m)
Danny D'Souza (1 silver men's 100m)
Lissa Labiche (1 silver in the women's long jump)
Janet Boniface (1 silver in the women's triple jump)
Odile Felix (1 silver in the women's 100m handisports mental)
Selwyn Beauchamp (1 bronze in the men's shot put)
Janet Boniface (1 bronze in the women's long jump)
Men's 4x400m team of Leeroy Henriette, Jean-Yves Esparon, Nerry Luc et Neddy Marie (1 bronze medal)
Regis Duval (1 bronze medal in men's shot put, handisports mental)
Silly Gaylord (1 bronze in men's 3,000m steeplechase)

Badminton – 12 medals: 4 gold, 5 silver and 3 bronze
Georgie Cupidon (1 gold in men's singles)
Georgie Cupidon and Steve Malcouzane (1 gold in men's doubles)
Cynthia Course and Alisen Camille (1 gold in women's doubles)
Cynthia Course (1 gold medal win women's singles)
Steve Malcouzane (1 silver in men's singles)
Katherina Paulin and Danielle Jupiter (1 silver in the women's doubles)
Georgie Cupidon and Alisen Camille pair (1 silver in mixed doubles)
Silver medal: Men's team of Georgie Cupidon, Steve Malcouzane, Kervin Ghislain, Kevin Bonté, Allen Azemia and Nicholas Jumaye
Silver medal: Women's team of Catherina Paulin, Alisen Camille, Shirley Etienne, Danielle Jupiter, Cynthia Course and Jessy Mancienne
Alisen Camille (1 bronze in women's singles)
Katherina Paulin (1 bronze in women's singles)
Steve Malcouzane and Cynthia Course (1 bronze in mixed doubles)
Basketball – 1 gold medal
Men's basketball team of Cyril Agrippine, Darren Lesperance, Steven Servina, Daniel Victor, Nigel Sinon, Reggie Ah-Kong, Bernard Bristol, Robert Léon, Neddy Fanchette, Abdel Sylla, Amadou Sylla and Dominique Pillay (1 gold)
Boxing – 9 medals: 4 gold and 5 bronze
Andrique Allisop (1 gold in the 56kg category)
Kitson Julie (1 gold in the 69kg category)
Jovet Jean (1 gold in the 75kg category)
Keddy Agnes (1 gold in the 81kg category)
Perry Nassib (1 bronze in the 49kg category)
Dave César (1 bronze in the 52kg category)
Alva Botsoie (1 bronze in the 64kg category)
Sandy Baccarie (1 bronze in the 91kg category)
Ronny Legras (1 bronze in the +91kg category)
Cycling – 3 bronze medals
Hedson Mathieu (1 bronze in the individual time trial)
Hedson Mathieu (1 bronze in the road race)
Hedson Mathieu, Chris Germain, Andy Rose and Edward Pothin (1 bronze in the team time trial)
Football – 1 gold medal
Men's football team of Nelson Sopha, Vincent Euphrasie, Eugene Valentin, Jonathan Bibi, Nigel Freminot, Allen Larue, Ronny Marengo, Jones Joubert, Nelson Laurence, Trevor Poiret, Henny Dufresne, Don Anacoura, Brian Dorby, Gervais Waye-Hive, Archille Henriette, Karl Hall, Alex Nibourette, Wilnes Brutus, Alpha Baldé and Kevin Betsy (1 gold)
Judo – 8 medals: 2 silver and 6 bronze
Manuella Volcère (1 silver in the women's +78kg category)
Dominique Dugasse (1 silver in the men's +90kg category)
Leslie Philoé (1 bronze in the -81kg category)
Leola Littles (1 bronze in the women's -70kg category)
Brigitte Rose (1 bronze in the women's -78kg category)
Francis Labrosse (1 bronze in the men's 60kg category)
Naddy Jeanne (1 bronze in the men's -73kg category)
Marie-Annette Vidot (1 bronze in the women's -63kg category)
Sailing – 8 medals: 3 gold, 3 silver and 2 bronze
Roy Govinden (1 gold, Laser Radial men)
Allan Julie (1 gold, Laser Standard men)
Bertrand Lablache (1 gold, Windsurfing)
Beth Gertrude (1 silver Laser Radial women)
Esther Hansel (1 silver laser Radial men)
Rodney Govinden (1 silver, Laser Standard men)
Meggy Gertrude (1 bronze, Laser radial women)
Jean-Marc Gardette (1 bronze, Windsurfing)
Swimming – 18 medals: 6 gold, 5 silver and 7 bronze
Shrone Austin (5 gold medals in women's 400m freestyle, 200m butterfly, 800m freestyle, 200m individual medley and 400m individual medley)
Bertrand Bristol (1 gold in 200m butterfly)
Shrone Austin (1 silver in the women's 200m breaststroke)
Shannon Austin (2 silver in 200m freestyle and 400m individual medley)
Women's 4x200m freestyle relay team of Shrone Austin, Shannon Austin, Anish Payet and Aurelie Fanchette (1 silver medal)
Cyril Charles (1 silver in men's 50m freestyle handisports)
Men's 4x200m freestyle relay team of Steven Mangroo, Shane Mangroo, Bertrand Bristol and Claude Adeline (1 bronze medal).
Shrone Austin (1 bronze in women's 100m breaststroke)
Shannon Austin (1 bronze in women's 400m freestyle)
Women's 4x100m medley relay team of Shrone Austin, Shannon Austin, Aurelie Fanchette and Anisha Payet (1 bronze medal)
Men's 4x100m medley relay team of Claude Adeline, Pierre-André Adam, Bristol and Adrian Nanty (1 bronze)
Men's 4x100m freestyle relay team of Shane Mangroo, Bertrand Bristol, Claude Adeline and Steven Mangroo (1 bronze),
Women's 4x100m freestyle relay team of Shrone Austin, Shannon Austin, Aurelie Fanchette and Anisha Payet (1 bronze)
Table tennis – 4 medals: 1 gold and 3 bronze
Anniessa Benstrong (1 gold in women's singles)
Women's team of Anniessa Benstrong, Janice Mellie, Christy Bristol, Dorina Robert, Margaret Chang-Time and Laura Sinon (1 bronze)
Godfrey Sultan and Anniessa Benstrong (1 bronze in the mixed doubles)
Anniessa Benstrong and Christy Bristol (1 bronze in women's doubles)
Volleyball – 2 gold medals
Women's team of Nathalie Agnes, Marielle Bonne, Sandra Joseph, Terille Songoire, Maya Biong, Marie-Claude Rose, Tina Agathine, Annie Appasamy, Flora Lesperance, Samantha Eugénie, Kelly Matombé and Virginie Richard (1 gold)
Men's team of Ian Furneau, Rodney Ah-kong, Jude Frederick, Guilly Bijoux, Bernard Bijoux, Benjamin Bijoux, Kenneth Sinon, Percy Riaze, Ricky Vel, Paul Rose, Jones Mangroo and Perrin Sophola (1 gold)
Weightlifting – 36 medals: 30 gold, 3 silver and 3 bronze
Steven Baccus (3 gold in the 94 kg category),
Elvis Jeanne (3 gold in the 105 kg category)
Elvis Siméon (3 gold in the +105 kg category)
Janet Georges (3 gold in the +75kg category)
Katsia Télémaque (3 gold in the 48kg category)
Julie Matatiken (3 gold in the 53kg category)
Ruby Malvina (3 gold in the 58kg category)
Charles Siméon (3 gold in the 77kg category)
Terrence Dixie (3 gold in the 85 category)
Ian Rose (3 gold in the 69kg category)
Frank Accouche (2 silver and 1 bronze in the +105 kg category)
Rena Agricole (1 silver in the 69kg category)
Jelissa Julie (2 bronze in the +75kg category)