New Year baby arrives earlier than expected
04-January-2012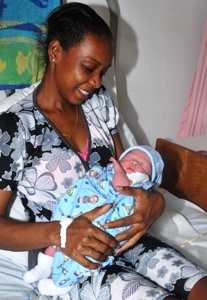 "I really was not expecting him to come on New Year's Day as the doctors had said he would arrive on January 23," said a very tired-looking but delightful Diana.
Baby Carolla – who has not been given a name yet – was born at 1.17am on New Year's Day and despite weighing a little under the recommended weight, is healthy, according to the nurse on duty that day.
Diana is now a mother of three as she also has two girls.
The lucky infant, only a few hours old, had already received gifts when Seychelles Nation journalist arrived at the hospital to see him.
A hamper full of goodies from Saving's Bank had already made its way into Diana's room along with a R1,000 bond from the government with which Diana could open the baby's first savings account with.
The maternity ward at the Seychelles Hospital said only one child was born on New Year's Day.