SNP leader's New Year message
04-January-2012
The following are excerpts from Mr Ramkalawan's message: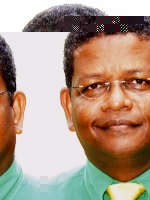 "In every culture, ours included, a new year is welcomed with much anticipation and celebration. As the end of a year brings a sense of fulfilment at what we have been able to achieve, the new brings a sense of excitement, with the expectation that what we failed to attain the previous year, we will endeavour to fulfil in the new one. Though we may not always succeed, the human spirit pushes us towards challenges that help us accomplish feats beyond our imagining.
"As we embrace 2012, may we take time to ponder on the unfinished businesses of 2011 with the aim of completing these tasks during the time afforded us at the beginning of the New Year.

May we also seek solutions to the obstacles that slowed us down and be more alert and ready to overcome anything that will cross our path in the coming months. We need to remember that learning from past mistakes is empowering as it enables us to set new targets using tested methods to climb higher.
"May we push ourselves not to leave undone the things we can do or to postpone tasks that can be performed immediately. Let 2012 be a year of action with a sense of urgency attached to it. Let it be a year when no time is wasted in carrying out responsibilities that will help our families, communities and the motherland move forward and become more welcoming and successful.
"My thoughts go out to the youth of this land as many end their local studies and prepare for higher education. I wish you added determination to succeed and hope that you will have the right advice to guide you in the choices before you. The hopes of your parents and your country are on you to achieve the best grades possible and to turn into responsible and able adults.
"Indeed, at the beginning of 2012, I pray that we may grow as a God-fearing nation knowing the difference and able to make the choice between good and bad … As our country undergoes the most important reform of our electoral system, may we come together as one people and unite our efforts to build a democracy that will be a model for the world.
"Fellow citizens, I wish everyone, in whatever situation you may find yourselves, the very best for 2012. May you all have a blessed and prosperous 2012.
"God bless you. God bless our country, Seychelles."