President thanks forces, urges continued dedicated service
04-January-2012
He urged them to continue serving the country with passion, devotion, enthusiasm and pride.

This was during the traditional New Year's Day gathering, which took place at the International Conference Centre.
"I hope together we will work even harder to realise our vision for a New Seychelles. I count on you. Seychelles counts on you," he told them.
He commended the SPDF and the police for their accomplishments during the last year and said the two institutions are the pride of the nation, urging the officers to continue working hard to bring further victories for Seychelles.
He also congratulated the National Drug Enforcement Agency (NDEA) for its success in removing R100 million worth of drugs from the streets and arresting 2,000 persons for drug-related offences since its creation in August 2008.
"We need to attack, without mercy, this drug problem which is gnawing away at our society. We need to fight crime and banditry with determination. We need to eliminate anti-social behaviour, which is a shame of our nation. In this new year, we need to transform the values 'social renaissance' into reality.
"We need to live these values every day," said Mr Michel.
He also said piracy is a threat to our freedom of movement and our life as a maritime nation, and praised the bravery of the Seychelles Coast Guard, Tazar Forces and the SPDF air wing for their bold and victorious actions against pirates.
"It is a situation which poses an enormous risk for our economic survival and our socio-economic development. This means that Seychelles is at war! We are at war against piracy! Our armed forces are leading an heroic combat to drive away this threat from our shores…. Seychelles will never allow itself to be conquered by fear," he said.
Home Affairs, Environment, Transport and Energy Minister Joël Morgan said 2011 presented a lot of hard work and challenges for them all.
He said there were many developments in the police force – which falls under his office – and it was engaged at all the levels where a lot was demanded of the officers who also delivered a lot.
"A lot of pressure was put on you to deliver at the high level we, the government and the public, expect of you.
"Sometimes some among you have the perception that too much is being demanded of you in your work. A teacher who wants to see his students excel most of the time puts pressure on them to work hard and succeed in their lessons," he said, adding that kind of pressure is necessary to ensure good results in their work.
Chief of Defence Forces Brigadier Leopold Payet said it is always a pleasure to welcome Mr Michel as their Commander-in-Chief on January 1.
He said the occasion allows them to recognise that the authorities in their wisdom, far-sightedness and courage created the defence forces which not only protect and guard the interest of the country but also command the respect of the Seychellois nation as a whole.
During the ceremony, Mr Michel inspected a guard of honour and cut a cake to mark the occasion.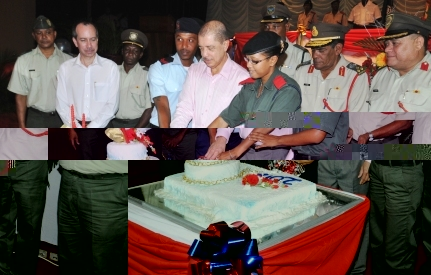 He also presented a Sword of Honour to Second Lieutenant Michel Souris who was overseas when the commissioning ceremony for first batch of 15 graduates of the Military Young Leaders programme was held last year.
Second Lieutenant Souris was named the best overall cadet upon completing the 19-month leadership course but was in India following a specialised course when the ceremony took place.
Deacon Louis Agathine prayed for the leaders and members of the forces while Patrick Victor and the National Brass Band offered entertainment.
Nation hopes to publish in full in its Saturday issue the speech made by President Michel at Sunday's event.