Police to train security guards
05-January-2012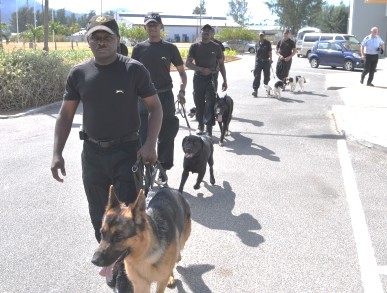 Home Affairs, Environment, Transport and Energy Minister Joël Morgan announced this on Sunday during the annual gathering at which President James Michel – in his capacity as Commander-in-Chief of the Armed Forces – met members of the Seychelles People's Defence Forces (SPDF) and of the Seychelles Police at the International Conference Centre.
"Soon we will launch a course for security guards to ensure we have well trained guards. This will help security companies give better service in our country," said Mr Morgan, under whom the police department falls.
The commandant of the Seychelles Police Academy, Assistant Superintendent Francois Freminot, told Nation yesterday the course is likely to start next month with post S5 students, adding this particular training is not for serving guards.
He said the recruits will be taught basic policing, the country's laws that are relevant to their work – including humanitarian laws and provisions of the Constitution that apply – guarding techniques, escorting, their powers under the law, basic searching and seizing techniques.
Mr Freminot said the police expect that security firms will then employ guards who follow the course.
Very few security firms are known to have been offering any training for their staff and the manager of one firm has been talking about a high attrition rate "because the few we train become more marketable and are continually poached by other firms".
During the ceremony, Mr Morgan said the Year 2011 has been a busy one for the police, noting there were two elections – presidential and National Assembly, the three-day Carnaval International de Victoria, the 11-day Zwe Dezil.
"We saw many other important events in which the police put in place very solid and comprehensive work plans which allowed the events to be held in an orderly manner, peace and security," he said.
He said the force will offer more training for its officers, and thanked Mr Michel for launching the Young Police Leaders' Programme.
He noted experts from abroad were invited to run other courses here while some Seychellois officers went overseas for further training.
Trainers who came were from bodies like the United Nations Office for Drugs and Crime as well as from the British government, through the National Policing Improvement Agency, from France, Interpol and other sources.
The officers, he said, added many skills including collection of intelligence, investigations, leadership, management, patrol techniques as well as the use of scientific evidence.