Rehab Centre gets new technological tools
05-January-2012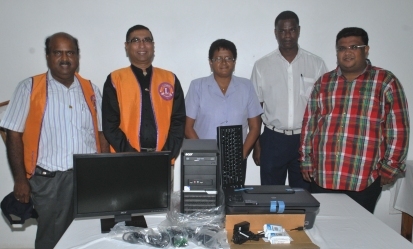 The handover ceremony took place at the Rehab Centre at North East Point and was attended by LCPS President Pravin Darad, immediate past President Lion Siva Pillay, managing director of Hari Builders Harish Patel, club secretary Marie-France MacGregor, other club representatives, the director of the Rehabilitation Centre Patricia Rene and orthotic technician at the centre Allen Julie, who also accepted the gift on behalf of the Rehabilitation Centre and the Ministry of Health.
In a short speech Mr Darad said the LCPS is "community orientated", adding they feel privileged to be able to provide equipment to the centre.
Mr Darad also spoke about other projects which the club undertook throughout the year including the donation of two kiosks to the School of Advanced Level, partnering with the Ministry of Health to organise cataract surgeries for patients in need, the Millennium Tree Planting Programme, bringing ENT specialists into the country as well as discussing the idea of opening an eye clinic – Lions Eye Theatre – with the Ministry of Health.