Sepec gets international standard certificate renewal
06-January-2012
The certification will also help the company to comply with applicable laws, regulations, and other environmentally oriented requirements. It is a renewal of the ISO 9000 certificate which Sepec received in 2003.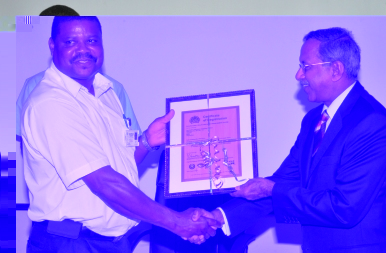 Other than the ISO 9000, Sepec also received the OHSAS 18000 which is an international occupational health and safety management system specification. It gives requirements for an occupational health and safety management system and to enable an organisation to control its risks and improve its performance. It was developed to be compatible with both the ISO 9000 management systems standard.
Auditing for the certifications was carried out by the British Standards Institution (BSI), a multinational business services provider whose principal activity is the production of standards and the supply of standards-related services.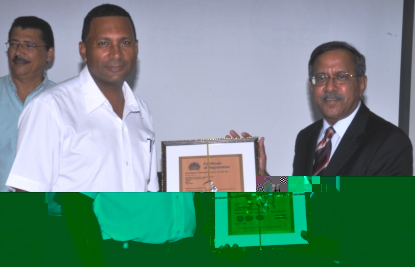 Sepec received the certificates recently during a ceremony at the company's head office at the New Port in the presence of deputy chief executive Eddie Belle, BSI managing director Venkataram Arabolu, general manager Vasu Delf Muty and senior management staff of Sepec.
Addressing those present, Mr Belle said for the past seven years, Sepec has been audited by an external classification body, as well as internal trained staff. He explained the internal auditors were chosen to audit outside the usual management line so as to bring a degree of independence to their judgments.
The audits, he said, provide a continual process of review and assessment to verify that the system is working as it is supposed to, to find out when improvements can be made and also to correct and prevent repeats of problems identified.
He added that during the seven years that Sepec has been ISO 9000 certified, its operations have greatly improved.
Other than a more effective operation the other benefits are an increase in the customer satisfaction, a boost in staff motivation, awareness and moral, reduction in operational and error waste as well as a big increase in productivity.
In a similar vein, Mr Belle said the OHSAS 18000 will help Sepec manage and control the health and safety risk and to improve the occupation health and safety performance.
He also reminded the Sepec staff that with the certification, their work has just begun. "We need to continue to work hard to improve and be re-certified," he added.
Mr Belle further stated that once comfortable with the two new standards, Sepec will embark on phase three of its standardisation project.
On behalf of BSI, Mr Arabolu reminded the Sepec staff that the certification is only part of what they do on a daily basis.
He said environmental management has become one of the most fundamental steps to ensure that we do things better and every company implementing it is taking on step further in doing the right thing to ensure a better future.
"A lot of effort and commitment is needed at all levels of the company to ensure continuous success," he added.

During that same ceremony, a group of Sepec senior staff received certificates after successfully completing the Environmental Health and Safety Internal Auditor Course.