Seychelles hosts meeting of top east European economists
06-January-2012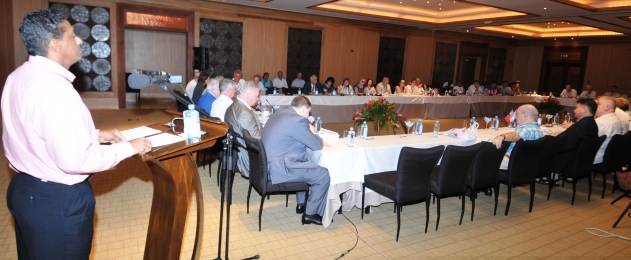 The 12-day gathering of top east European economists, at which Vice-President and Finance Minister Danny Faure was the guest of honour at the inauguration yesterday, is being held under the theme "Socio-economic development of the world community: current trends; problems; prospects".
It comes after one last year, held in Austria, and the one in 2010 in Brazil, the venue being changed every year.
Among other guests yesterday at the opening of this year's meeting were Professor Gavril Popov, President of the organisation and also head of the International University of the Russian Federation.
Prof. Popov has written several books on economics in the wake of Perestroika.
The Russian ambassador in Victoria, Mikhail Kalinin, set the tone for the gathering by telling delegates that it is being held at an opportune time when relations between our two countries are being consolidated almost daily.
Among the most important events, the ambassador said, was the launch of Moscow-Mahe flights by the Russian carrier Transaero.

He noted that an average 8,000 Russian visitors already holiday in Seychelles yearly and the numbers look set to grow with direct flights by Transaero.
Ambassador Kalinin also mentioned the visit three weeks ago of the deputy commander of the main staff of the Russian Navy, Rear Admiral Vasily Lyashock, coinciding with the visit of Russian anti-submarine warship Admiral Pantaleev.

Vice-President Faure spoke of Seychelles' macro-economic programme launched in October 2008, with the support of the International Monetary Fund (IMF), the World Bank and some other financial institutions.

This, he recalled, was done because Seychelles' economic rating had then dropped to its lowest and we faced acute foreign currency problems and a thriving black market.
Mr Faure noted that as the rupee was allowed to float against major currencies, inflation hit over 67%; treasury bills rose to 30%.
But market forces acted and funds held abroad flowed back, liquidity was tightened and as we held on tight to the fiscal reigns, the exchange rate slide was reversed and stability quickly set in.
The external debt itself has dropped from $751 million to $456 million, which means a $295 million debt reduction or almost $3,470 per head of population.
Looking to the future, Mr Faure sounded a more cautious note, noting that the Eurozone, where most of our tourists come from, continues to simmer.
Added to that are the massive losses by Air Seychelles, which will soon be reduced to a regional airline.
The spending power of visitors has also reduced.
"It is my view that the world recession may live with us for quite some time," he said.

Mr Faure stressed that we have to adapt to this new environment, as we have no choice but to be more efficient since we must compete more.
In economic terms, he saw the drawing up of a medium-term macro-economic framework as crucial.
"This would then be backed by fiscal, monetary and other long-term policies that are compatible within the framework that itself must be based on real parametres given the realities on the ground."
As examples, he cited the need to promote energy efficiency and energy renewable sources, tackling piracy and other illegal activity, such as drugs.
Mr Faure also said we must continue to diversify our economy and seek new ways to add value to products and in that context, it is hoped that the introduction of a submarine cable later this year will allow a new dimension to be created, providing services with greater efficiency.