Kokotalk allows families to keep in touch during the festive season
06-January-2012
All kids expect presents from their parents, uncles, aunties, godparents, in fact from almost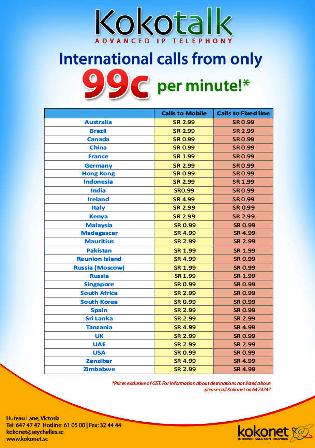 everyone. Most families tend to give their homes a new facelift to welcome the New Year, while the Christmas lunch or dinner and the New Year's Eve party all stretch the budget.
Though most of us have the luxury of spending the festive season with our families and loved ones, there is a high percentage of the population that have to do so with theirs being far away from them for various reasons. Think of all the expatriate workers, Seychellois parents with their children studying and living abroad and even those Seychellois who are overseas on medical treatment. For the majority of those people they can only share the joy of Christmas with their overseas counterpart through a phone call.

This time Kokonet has ensured that the festive seasons have been a much better experience for those people. They have been able to talk for more with less money through Kokotalk. With call rates from as low as 99 cents per minute Kokonet has been able to put a smile on the face of most expatriate workers as they know that this time calling their loved ones over Christmas has not been a financial burden.
"On New Year's day I was able to talk to my mum back in India for almost 90 minutes with a R100.00 Kokotalk card; last year with another provider with R100.00 I could not even talk for 20 minutes," said Mr Gopal, an Indian construction worker working at Eden Island.
Through Kokotalk customers can make huge savings while calling abroad. Calls to destinations like India, China, USA, Australia, Singapore, Canada, and most European countries can cost only 99 cents per minute.
The Kokotalk calling cards are available in most shops and also in Kokonet's sales office at Huteau Lane. For more information on Kokotalk and other services provided by Kokonet please call 4610500.
Sponsored by Kokonet