Football-Coach Jean-Louis quits
06-January-2012
The former midfielder, who started his career with Bel Air during the regionalisation era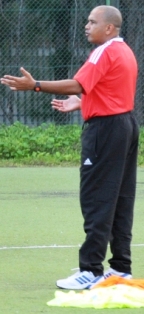 before moving to Anse Aux Pins and later St Michel in 1993 with the reintroduction of club sports here, resigned from the post on December 30, 2011.
When he took charge of the Seychelles team in January last year, 'Tiapout', as he is affectionately known in the football arena, said his objective was to help the country's national team win the Indian Ocean Island games (IOIG) gold medal for the first time. And he achieved his goal with a penalty shootout win over Mauritius in the final.
His original contract ended on September 30, 2011 and he was given a three-month contract from September 30, 2011 to December 31, 2011.
Known for the kind of energy he brings into what he does, his good planning and the emphasis he places on discipline, 'Tiapout' himself won two IOIG bronze medals in 1990 (Madagascar) and 1998 (Reunion) as a player in 11 years spent with the national team.
Sports Nation has also learned that Marc Mathiot and Gavin Jeanne are working with the country's national team on a temporary basis.
G. G.