Abu Dhabi Omeir Holidays consultants get first taste of exotic Seychelles
07-January-2012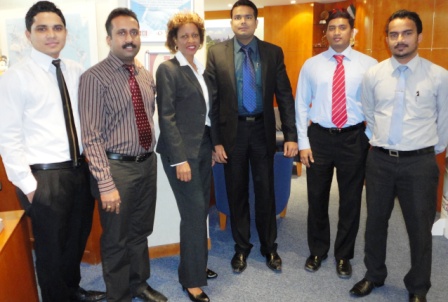 Omeir Travel Agency has been in the travel industry for more than 56 years with 70 offices around the United Arab Emirates (UAE) only, and has a client-base of over a million. Major government departments, educational institutions, private organisations and private individuals in the UAE have always dealt with Omeir Travel Agency.
Dinesh Nair, holidays supervisor of the Abu Dhabi office, recently met Aliette Esther to discuss various ways of partnering in an effort to promote and market the Seychelles islands to the Abu Dhabi and Al Ain clients.
It was during that same meeting that both parties agreed to have a presentation done in-house to its front office holidays consultants to ensure they are well familiar with the products and services as they continue to sell them.
Up to now, the Seychelles islands have primarily been promoted as a honeymooners' paradise but other aspects of the destination have been put forward such as the various events happening throughout the year – Eco-healing Marathon, Carnaval International de Victoria, Kavadi Thaipoosam, Subios and Miss Seychelles.
At the end of the presentation, the feedback from the consultants was positive and they have confirmed to be better prepared to promote and sell the Seychelles islands to their existing and prospective clients.
All those who took part were presented with a Seychelles kit which will be useful when selling the destination.
This is the first of many other presentations planned to take place in Abu Dhabi and Al Ain this year.
As this emerging market is expanding, and with the local airline having direct access to the Pointe Larue International Airport, this is certainly a plus for those who have the desire to visit our exotic islands which are just four hours away.