'A friend in me' project well received
07-January-2012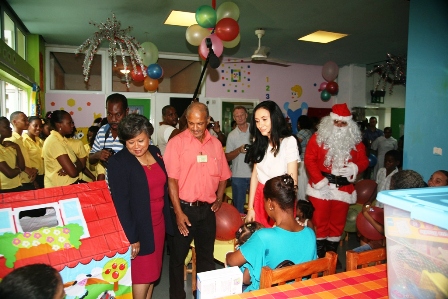 With the unveiling of the commemorative plaque, the First Lady gave her firm commitment and presented to all her vision, encaptured through the project, directing her energy and the dynamism of her organisation, the Children's Homes Foundation, to provide help and support to the children's ward to make it more child-friendly and comfortable for the children who are admitted there.
The mission of the project and its theme was well articulated through the theme song "A friend in me" performed by Les Rossignols children's home choir on the day of the launch.

The choir was led by Bennett Accouche, who happens to be the artistic director of the Children's Homes Foundation.

The project, as explained by the chief executive officer of the Children's Homes Foundation, Noella Gontier, on the day of the launch, had already been initiated earlier in the year.
Beneficiaries have included the Foyer de la Providence, the Baie Ste Anne day care centre, the School for the Exceptional Child, children with hearing impairment and children from the community.
These institutions and groups have all benefitted from support under the project either to realise much needed refurbishment of their locations or acquire much needed specialised equipment and furniture.
The children whose mothers are serving jail sentences is another group who have benefitted from the project with toys around the festive season.
As far as the children's ward is concerned, the components of the project includes the refurbishment of the dinning and play area, the acquisition of educational toys and books, the acquisition of flat screen TV, DVD player and children's DVDs, the complete redecoration and painting of the walls and the replacement of the curtains.
Other institutions which have joined in with the Foundation include Mayfair Trust and the International School of Seychelles, Luiggi Berardi, Vijay Construction and the Diplomatic Spouses Association.
The services of a dynamic young businesswoman, Debra Naiken, was sought to redecorate the walls of the dining and play area, and new furniture items including one large dining table and chairs for parents and five small children tables with matching sets of six chairs were acquired and officially handed over on the day of the unveil.
The Children's Homes Foundation has so far spent a total of SR50,000 on the project.