Long liners resume fishing after security guarantees
09-January-2012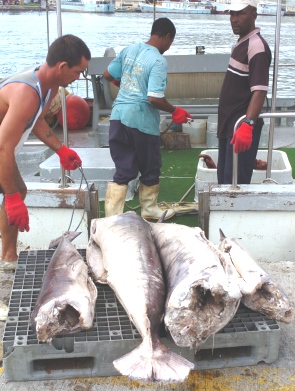 The first long liner to venture out 70 nautical miles after swordfish, sailfish and tuna, is the Taurus – one of two such boats owned by Oceana Fisheries. It was the same boat which, three months ago, had a close shave with Somali pirates and its skipper Patrick Hoareau made the timely decision to flee, but leaving many lines, buoys and thousands of hooks , worth some R30,000 in its wake.
Radley Weber, one of the owners of Oceana Fisheries, told Seychelles Nation the company's boats have been tied up for almost three months.
"There has been hardly any fish to export or sell on the local market. Certainly not enough to make the operation viable," he said.
Mr Weber also notes that until now, fishing ventures, including Oceana Fisheries, had been benefitting from tax concessions for fuel purchases under the Fisheries Incentive Act to keep the cold rooms running 24 hours a day. But there is a time frame and such concessions have almost expired, which means they will have to pay full tariff for electricity, which since 2012 is up by 24%.
Mr Weber says Oceana Fisheries' electricity bill is going up to several thousand rupees monthly, even when its cold rooms are half empty.
Throughout December, long queues formed outside every early morning to buy what little fish Oceana Fisheries had. Often, the supply was gone within just a couple of hours.
Both Oceana Fisheries and the other main fish processor Sea Harvest also obtain fish, such as marlin, kingfish and dorado – all by catch from the European purse seiners.
David Bentley of Sea Harvest told Seychelles Nation that the uncertainty following the seizure of two fishermen by Somali pirates in late October and the rather bad sea conditions have resulted in a greatly reduced fish supply, which means there was not enough to supply residents and hotels.
He said the company did not export anything in December, while the company's turnover for November and December 2011 was 40% lower than expected.
Like Oceana Fisheries, Sea Harvest also imported seafood, such as lobsters and shrimps -- in much demand during the festive season -- which was the mainstay of operations last December.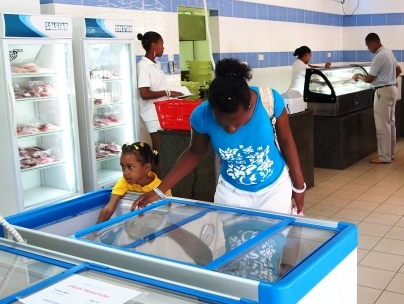 Sea Harvest, which has an outlet in Orion Mall, does not own any long liners, but has supply agreements with two such vessels, as well as some other boats which steam out to the fishing shoals and pack their fish on ice during the week's expedition.
Piracy and the prevailing uncertainty could well affect employment prospects in the fisheries sector.
While Mr Weber has dismissed suggestions that Oceana Fisheries was contemplating closing down, he noted that the company has a workforce of 52, including the two long-lining skippers.
Sea Harvest has a 35-strong workforce and had advertised for 15 more workers, but the capture of two of its fishermen and the ensuing uncertainty prompted it to put recruitment on hold.
Commenting on electricity costs, Mr Bentley said: "While we do not expect the Public Utilities Corporation (PUC) to sell us electricity at below production costs, we certainly hope they will consider an off-peak tariff, and operate in an industry-friendly manner."
Both operators are, however, still hopeful for the future.
"Piracy has meant that our demersal or bottom-line fishermen are suffering. The methodology of fishing has to change and we shall have to adapt to the circumstances," said Mr Weber. "We shall now have to be on our toes to succeed," he added.
Mr Bentley sees a good future for fishing in Seychelles and goes as far as forecasting a 20% annual growth once piracy "subsides".
Many fishermen, however, are clearly not optimistic.