Music student receives plane ticket to Sweden
09-January-2012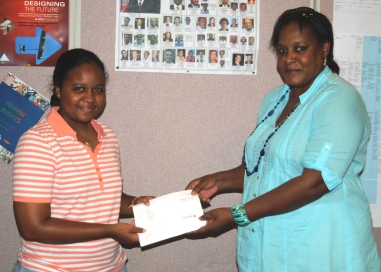 Alisha was accompanied by her mother to the ceremony at the National Library which was attended by culture principal secretary Raymonde Onezime, culture director general Marcel Rosalie, and head of the National Conservatory of Performing Arts Pierre Joseph.
Mr Joseph said Alisha, who plays the piano and guitar, will be following a six-month attachment at the Umeå Midgardsskolan.
Ms Onezime explained that Alisha has shown remarkable capability in her music studies which is why the department of culture decided to support her in furthering her studies in music.
"We have an excellent partnership with Midgardsskolan who has also agreed to provide training for our choir masters who will be taking part in an upcoming choir festival which we are planning," she said, adding the culture department is planning a longer scholarship programme for students interested in furthering their studies in music.
The NCPA signed a memorandum of understanding last year with the Midgardsskolan – a high school in Umeå – and the agreement covers exchanges between the two schools.
Local music student Alisha Ernesta's six-month attachment at the Umeå Midgardsskolan from January to June falls under the agreement.
Under the NCPA's strategic plan, the aim is to have students in secondary four or five go on exchange visits to other countries' music schools so that when they return to Seychelles, they can get good results in their final exams and qualify for a full scholarship in a music-teaching institution overseas.
The agreement also covers the training of instructors, where this year music teachers from Umeå will come to Seychelles to help further the knowledge and develop the skills of those working with the NCPA.
There are also ongoing negotiations on the possibility of having a music scholarship inserted in the memorandum of understanding and hopefully a lucky NCPA student would get a three-year scholarship at the Midgardsskolan.
A university town in the north of Sweden, Umeå is the biggest city in Norrland and the 12th biggest in Sweden. The town is a centre of education, technical and medical research in Sweden, with two universities and over 30,000 students.