Seychelles Global Citizen-Mancham's documentary gets first screening in Australia
10-January-2012
Mr Boultbee, who had just returned from Singapore, announced that the film has been shortlisted among six other documentaries for Super pitch at the Singapore Asian Pacific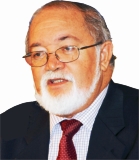 Television award convention 2012.
The first edition of the documentary was privately shown to selected audiences in Seychelles last year, before it was known that former President Mancham had won the Gusi Peace prize 2011 for statesmanship.
The final edition of the documentary which was shown on January 6 culminates with the Gusi Peace Prize awards ceremony which took place on November 24, 2011 at the Phillippines Convention centre in Manila.
According to Garry Gibson of Epix Productions and former producer of Australian Channel Nine TV network, who was a guest at the Brisbane reception, there is a growing interest in Australia in a documentary of this kind as the Australians reflect on their colonial history as part of the on-going debate towards the treatment of their Aboriginal people.
Mr Boultbee said that the documentary will be commercially released in London by the end of January 2012.
Mr Mancham, who was loudly applauded after the show for his national reconciliation policy in Seychelles and his world wide peace efforts, said that as soon as the documentary is released he will make sure that SBC television gets a copy so that the people of the Seychelles will have the opportunity to appreciate or criticise what it is about in the interest of our history and transparency.