Up Close … with Adrine Bacco-Trials and tribulations of one of 'Christ's soldiers'
10-January-2012
Her hair was sleeked back into a neat bun and she wore a delicate bonded necklace around her neck. I also noticed a fashionable ring which she wore over tattooed letters on her knuckles.

It spelt LOVE – fitting if you think of what the young girl has done for hundreds of youth across the country.
Growing up
Born on June 7, 1987 in Kenya, Adrine – who is the leader of the movement Soldiers for Christ Seychelles and also a counsellor at the Seychelles National Youth Council (SNYC) -- also takes on motherly responsibilities to Sonia, her younger sister.
Adrine, thrice awarded for her dedicated service to the youth in Seychelles, lost both her parents within a short time frame and soon found herself dealing with responsibilities far beyond her years.
"It's tough," said Adrine, her lips drawing into a thin line. "I mean we get help from welfare and other family members, but it's really not the same as when both your parents are alive."
Adrine said most of her childhood was spent in Seychelles despite having been born in Kenya.

"I'm lucky in that although far from where I was born, I can still speak Swahili because my mother used to and it just kind of caught on I guess," she said.
Adrine's late primary and secondary school years were spent at Plaisance after which she moved to the Seychelles Polytechnic to continue her post secondary education.
Kenya
"I spent early primary in Kenya in a boarding school since my parents were in Seychelles at the time and there was nobody to care for me over there.
"I remember it being really cold there and having to adjust to the hotter temperature in Seychelles once I got here.
"I learned a lot in a very short time," said Adrine laughing.
"I really wanted to do something for the youth which is why – with some help from Colvinne Julienne – we started a new youth movement, Soldier's for Christ and I joined SNYC as a counsellor at the age of 23," she said.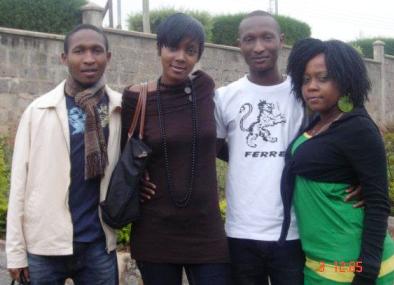 Always darkest before the dawn
"During my secondary years I followed a very bad crowd; smoking, drinking, you name it. It was a very bad time for me and to top it all, my mother began to fall ill due to my deviant behaviour. I believe that was my turning point – I had to make amends and change my life," said Adrine looking downcast.
"When mum got sick I had to take care of her and my sister basically; you know, paying bills, trying to support the family."
She took a deep breath.

"When she suddenly left us it was a hard blow," said Adrine, her eyes suddenly a little brighter and wetter than before. "Even though we prepared ourselves...when she was gone, it was just like I suddenly had no idea what to do.
"I had some comfort though. Mum had already begun seeing changes in me before she died," said Adrine, a faint smile playing at her lips.
"She was so happy, I could tell. I already felt bad that my previous behaviour hadn't helped her any and I just knew, this was it. I wanted to do more and I was going to," she said.
And achieve more she did! Adrine went from a troubled teenager to a fully fledged member of Soldier's for Christ and a dedicated youth counsellor preaching the Gospel and helping youths left, right and centre.
In that same period of time she received three awards; one for being among the five best youths in Seychelles, another at community level for her volunteer work and the most impressive being her 2009 Global Youth Leadership Award in India.
Life as a counsellor
"I won't lie. It's sometimes very discouraging," began Adrine.
"Some kids just don't want to change or are being pressured by friends and even family. It can sometimes frustrate you beyond anything," she said, clenching her fists.
"Those who make it through the programme though – that's another story. You get such a feeling of great accomplishment and it's all the more satisfying when you know you had a big role to play in it."
Going further
Adrine said counselling the youth with no background education on the subject is not enough.

"I feel that I need to deepen my knowledge and experience and study counselling and psychology in depth to reach a wider group," she said, waving her hands about.
In fact, as this feature is being published, Adrine has already left the country for Kenya where she plans to work to raise money for furthering her education on the subject.
"I'll definitely be gone for more than three years," she added.
Chillaxing
When not involved with helping people out, Adrine finds time to unwind.
"I love sports and so do my friends and my sister and it's not strange to sometimes find us at basketball or football matches," she said laughing.
"We in the Soldiers for Christ group also enjoy getting together for barbeques and just chill out and relax."
On spirituality in Seychelles
"I believe Seychelles has moved to the next level spiritually," said Adrine. "Nowadays, it's being included in everything -- from youth festivals and the more recent Renaissance Morale -- and I believe that's a great thing because without Jesus and without God in our lives we will never move forward as a country."
Adrine's advice for the youth of Seychelles is "Help and guide other youths who still haven't found God in their lives or found ways to change. Keep helping those out there on the streets who feel like they have no hope, because God can do miracles if you only ask for them."
Before we finished the interview, Adrine had a few more things to say.
"I couldn't have done all this on my own and I really want to thank my work place and colleagues, the government and President James Michel for all his support, Redeem Christian Church of God and every Soldier for Christ who has helped me in one way or another get to where I am now.
"I also want to thank my sister Sonia and my brother Isaac for their never-ending support."
As a side note, Adrine said anybody wishing to contact Soldiers for Christ for more information can do so via its new leader, Colvine Julienne, on 2568586.