Sports Awards of the Year 2011-Selection committee meets today
10-January-2012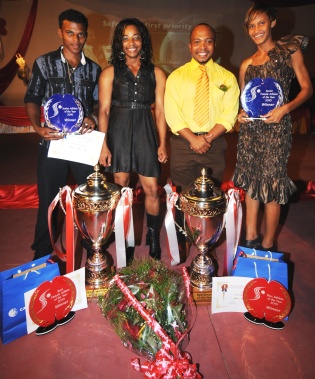 The organisers have announced that the ceremony will take place on Friday January 20, starting at 6.30pm at the International Conference Centre. It was originally scheduled for January 27 at the Berjaya Beau Vallon Bay Beach Resort & Casino.
Tickets cost R300 and will go on sale tomorrow at the National Sports Council, Stad Linite, and at the Sports Training Centre in the Stad Popiler car park. For more information, please call 4671202.
As usual, the event is divided into two parts – the presentation of certificates and prizes to the best athletes and people who have made significant contributions in Seychelles' sports, and a cocktail dinner.
On the night, athletes chosen by their federations and associations will run for four titles – Sportswoman of the Year, Sportsman of the Year, Young Female Athlete of the Year and Young Male Athlete of the Year.
Five male and five female young athletes will be shortlisted for the Young Male and Young Female Athletes of the Year titles, and all five will receive prizes during the crowning ceremony.
In the senior category, 10 men and 10 women chosen from the original list handed in by federations and associations will run for the Sportsman and Sportswoman of the Year titles. The top five in each category will be rewarded.
There will also be awards for disabled athlete of the year, volunteer of the year, coach of the year, sports federation/association of the year, official of the year and best educational institution of the year.
Chosen as the best female weightlifter for 2011, outgoing Sportswoman of the Year Janet Georges stands a chance of defending her title provided she makes it to the final 10.
As for Sportsman of the Year 2010 weightlifter Terrence Dixie he will relinquish his crown after not being chosen as the best in his sport.
Female high jumper Lissa Labiche and boxer Andrique Allisop will both be replaced as Young Female Athlete of the Year and Young Male Athlete of the Year as they are now over the age limit of 18.
G. G.
………..
The following are the names of the best athletes chosen by the sporting federations and associations:
Athletics: William Woodcock, Leeroy Henriette (male), Lissa Labiche, Janet Boniface (female), Marie-Helen Rose, Dean William (youth)
Badminton: Georgie Cupidon, Steve Malcouzane (male), Alisen Camille, Cynthia Course (female), Christian Toussaint, Chlorie Cadeau (youth)
Basketball: Bernard Bristol, Amadou Sylla (male), Simone Malbrook, Beguitta Fontaine (female), Irene Bau, Sergio Ah-kong (youth)
Boxing: Jovette Jean (male), Keddy Agnes (youth)

Canoeing: Tony Lespoir, Joscy Labiche (male), Louise Siméon (female), Randolph Jeannevol (youth)
Cricket: Janaka Sanjeewa Ratnayake (male)

Cycling: Hedson Mathieu (male)
Darts: Mike Rachel, Nichol Esparon (male), Debra Desaubin, Monia Delpeche (female)

Dominoes: André Accouche, Mamod Essack (male), Bena Zelia, Thelma Pierre-Louis (female)

Football: Achille Henriette, Jones Joubert (male), Berina Ladouce (female), Rashim Padayachy (youth)
Golf: Alix Esparon (male), Mandy Didon (female)

Handball: Leeroy Laure, Curtis Esther (male), Claire Marguerite, Jennifer Marie (female), Queeny Hertelle, Hendrick Siméon (youth)
Hockey: Michel Japhet (male), Francillia Jules (female)

Judo: Dominique Dugasse (male), Manuella Volcère (female), Jean-Michel Vidot, Jessie Malbrook (youth)
Karate: Bernard Thérésine (male), Shujatha Chettiar (female), Richard Athanasius-Ah-Weng, Chrislee Payet (youth)
Karting: Marc Delcy (male), Liza Rene-Cosgrow (female), Ryan Marianne (youth)

Netball: Militna Marie (female)
Petanque: Mario Dufresne (male), Livia Renaud (female)
Sailing: Allan Julie, Rodney Govinden (male), Meggy Gertrude, Beth Gertrude (female), Aubrey Sophola, Allison Hoareau (youth)
Squash: Rod Thorington (male), Eva Alphonse (female), Daria Alphonse, Jasper Gilbert (youth)

Swimming: Bertrand Bristol (male), Shrone Austin (female), Adam Viktora, Aurelie Fanchette (youth)
Table tennis: Godfrey Sultan, Dario Laurence (male), Anniessa Benstrong, Christy Bristol (female), Dario Laurence, Christy Bristol (youth)
Tennis: Sylvester Delpech (male), Clyvie Delpech (female), Damien Laporte, Thara Hoareau (youth)
Volleyball: Jones Mangroo, Ricky Vel (male), Nathalie Agnes, Tina Agathine (female), Leroy Morgan, Petrina Victor (youth)
Weightlifting: Elvis Jeanne, Charles Siméon (male), Janet Georges, Katsia Télémaque (female), Sirous Farabeau, Rena Agricole (youth)
Windsurfing: Bertrand Lablache, Jean-Marc Gardette (male)
Disabled: Regis Duval (male), Rosie Corallie (female)
Coach of the Year nominees
Carlos Sanchez Vizcaino (athletics), Nigel Ah-kong (basketball), Andrew Boniface (cycling), Ernest Bonnelame (dominoes), Vivian Bothe (football), Danny Philoé (handball), Francis Labrosse (judo), Philip Verghese (karate), Allan Julie (sailing), Barnsley Albert (swimming), Peter Youpa (table tennis), Frédérick Canale (tennis), Marie-Ange Bouchereau (volleyball) and William Dixie (weightlifting)
Official of the Year nominees
Fabien Belle (athletics), Vanessa Créa (badminton), Tracey Hétimier (basketball), Lucas Georges (cycling), Gerard Emile (dominoes), Bernard Camille (football), Emmanuel Larue (handball), Phillip Moustache (karateka), Terrence Gabriel (karting), Rita Toussaint (netball), Joel Fred (sailing), Estella Bau (swimming), Jean-Paul Fostel (table tennis), Michael Ah-kong (volleyball) and Robert Rose (weightlifting)
Volunteer of the Year nominees
Antoinette Esparon (athletics), Raymond Larue (dominoes), Philip Albert (canoeing), Alix Dufresne (handball)