Seychelles to get country programme action plan soon
11-January-2012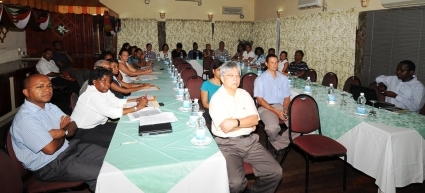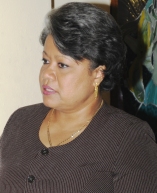 Dr Athanasius addressing guests and delegates at the opening of the workshop
This follows a recent workshop aimed at identifying and prioritising national and reproductive health and population development issues in Seychelles, developing a draft outline of the four-year Country Programme Action Plan detailing goals, objectives, strategies and outputs, as well as setting up a technical working group that will help finalise the action plan by January 15, 2012.
Seychelles is receiving help from the United Nations Population Fund (UNFPA) to come up with the plan, work on which started late last year.
Attending the recent workshop, held at the Coco D'Or Hotel at Beau Vallon, were the Minister for Health Dr Erna Athanasius, the Minister for Social Development and Culture Bernard Shamlaye, social development principal secretary Linda William-Melanie and UNFPA focal point and chief medical services officer Dr Anne Gabriel.
UNFPA representative for the Comores, Madagascar, Mauritius and Seychelles Dr Cheik Tidane Cisse, UNFPA Madagascar assistant representative Victor Rakoto, United Nations volunteer Vincent Okullo, and workers from the Ministry of Health and different health services also attended the workshop.
Dr Athanasius said today worldwide, sexual and reproductive health is seen as a basic human right for both men and women and Seychelles adopted this rights-based approach during the international conference on population and development in Cairo in 1990.
"Part of the government's mission is to provide both information and services in the area of reproductive health as well as encourage policy dialogue in population development," said Dr Athanasius.
She has thanked the UNFPA for its contribution in the areas of adolescent and reproductive health and population issues in Seychelles.
She also noted the help received from the organisation in developing a national population policy and action plan, a national policy, strategy and action plan on domestic violence and the production of parenting manuals and manuals for training peer educators, among other projects.
Dr Athanasius added that with the help of the UNFPA, the Seychelles government has been able to raise awareness on recurring issues such as Aids and violence against women in the country.
She noted that the workshop was an opportunity for us to build on our strengths, address our weaknesses and acknowledge the threats which affect delivery of high quality sexual and reproductive health services as well as address population development problems in the country.
Among the different issues discussed in groups during the workshop were a national policy for HIV/Aids and sexually transmitted diseases, the national reproductive health policy and draft strategy 2012-2016 and UNFPA's business plan on strategic focus and partnerships.