Local DMCs unite to tap Chinese tourism market
12-January-2012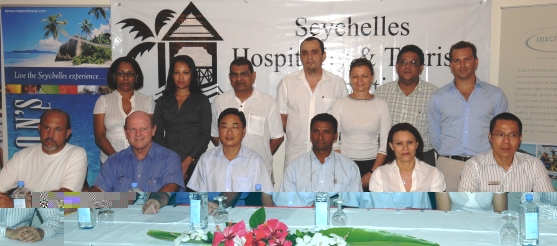 A memorandum of understanding was signed yesterday morning – at the Berjaya Beau Vallon Bay Resort & Casino – by representatives of local DMCs such as Select Seychelles, Creole Travel Services, Mason's Travel, Vision Voyages, Elite Destinations and 7° South.
The document attests to the companies' willingness to stand in a unified approach to welcome the Chinese market to Seychelles and that Seychelles is ready for business in the tourism sector.
A number of guests were present at yesterday's signing, such as the Chinese ambassador to Seychelles Shi Zhongjun, Seychelles Tourism Board (STB) chairman Barry Faure, STB chief executive Alain St Ange and his deputy Elsia Grandcourt.
The Seychelles Hospitality and Tourism Association (SHTA) executive director Raymond St Ange said a unified approach is the way forward and it is encouraging to see competitors joining forces to reach out to the Chinese market.
"China is important to us because it is an emerging market and with the restructuring of Air Seychelles to focus on regional routes – which is also important – we need to seek new avenues of business," he said.
Addressing the gathering, the STB chief executive said that within the next two months or even sooner, there will be a non-stop, direct flight to Beijing from Seychelles and vice versa.
"We are now finalising the details and are hoping to be able to supply all DMCs the price of tickets and other information," he said.
"We know that there is a potential and we are convinced that the trade will move as the bookings come."
Ambassador Shi also had encouraging words about the new venture and said it was his wish to see Seychelles introduced to more Chinese people.
"There are 17 million Chinese who travel abroad every year, but only a small number of people come to Seychelles – fewer than 2,000 in fact, which is too small – and it is my wish that we get a little more of that 17 million travellers to come here," he said.
Ambassador Shi also assured all stakeholders of his embassy's cooperation and support for the local DMCs and travel agencies.