Teachers learn to value cultural diversity
12-January-2012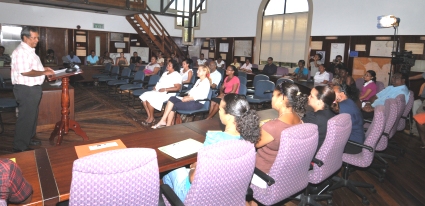 The seminar at the National Cultural Centre is aimed at getting the heritage clubs in schools better organised and has been organised by the Seychelles Heritage Foundation (SHF), in collaboration with the local organisation of the United Nations Development Programme (UNDP).
It is hoped that the presentations by the various speakers will lead to a better understanding of Seychelles' cultural origins and contribute to promotion of such values as respect, tolerance and good citizenship.
It is also likely to help children better understand their identity and face the challenges in a fast developing Seychelles.
After the workshop was officially opened yesterday by the chief executive of the SHF Patrick Nanty, the teachers learned about techniques of research from Gabriel Essack and also took up several case studies.
Other presentations include "Seychelles population origin" and how we have evolved into a multicultural society, by Peter Lalande.
Other guest speakers are Thérèse Barbé, with a presentation on "Living in multicultural Seychelles", Penda Choppy with "Respect and tolerance towards values, traditions and beliefs".
Personalities from diverse backgrounds, such as Indian and Chinese ethnic groups are also to speak about their contributions made to Seychelles' multicultural society.