Nature Seychelles and SFA strikes partnership -Study to probe role of marine reserves in fish protection
13-January-2012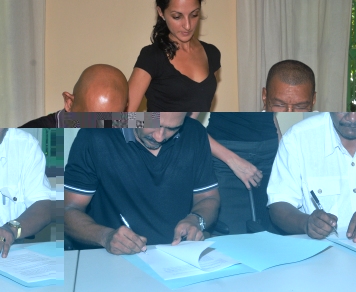 The two organisations formalised the partnership in a memorandum of agreement at the Nature Seychelles headquarters at Roche Caiman yesterday.
The document was signed by the chief executives of the two organisations -- Nirmal Jivan Shah of Nature Seychelles and Finley Racombo of the SFA -- in the presence of senior staff of the two bodies.
Cousin Island -- though at 40 years old is the oldest and best managed reserve for birds and other fauna -- is exposed to low levels of pollution compared to other reserves. This makes it an ideal case study to examine the role of marine reserves in sustaining fish communities, coral reef fisheries and maintaining eco-system resilience.
Dr Shah said that until now, it had been assumed that setting up marine protected areas will give a degree a protection to fish. But it is uncertain whether spawning always takes place within the reserve boundaries. If not, they are targetted by artisanal fishermen.
Dr Shah said the survey may determine whether it is necessary to move the boundaries of the marine reserves to encompass such functions of fish as spawning.
He said the agreement is significant since it is the first between the SFA, a resource management authority, and Nature Seychelles, a conservation body, and should lead to some highly interesting findings.
SFA's research manager Jan Robinson said it is important to find out what factors allow reefs to recover from coral bleaching, which started 13 years ago.
Noting that around Cousin Island the process has been rather slow, he said the role of fish in the recovery process must be assessed.
Mr Robinson said the time has come to find out whether the special marine reserve is too small and should be extended.
Among research methods envisaged is the implantation of acoustic or listening devices in some fish to study their movements and reproduction patterns.
The activity is being carried out under the Government of Seychelles Global Environment Facility, being implemeted with support from UNDP, whose local representative, Helena Sims, was also present at the agreement signing.
Nature Seychelles leads exciting and innovative programmes, including species and habitat conservation, monitoring research, island restoration, climate change adaptation and eco-tourism. It manages the award-winning Cousin Island reserve.
The SFA, which has the task of protecting and preserving Seychelles' fisheries for the future, has been doing pioneering research work on spawning aggregations of key species in recent years, in particular around Praslin. Its experience will be very useful in this project.