First big group of Chinese visitors to Seychelles expected on January 22
14-January-2012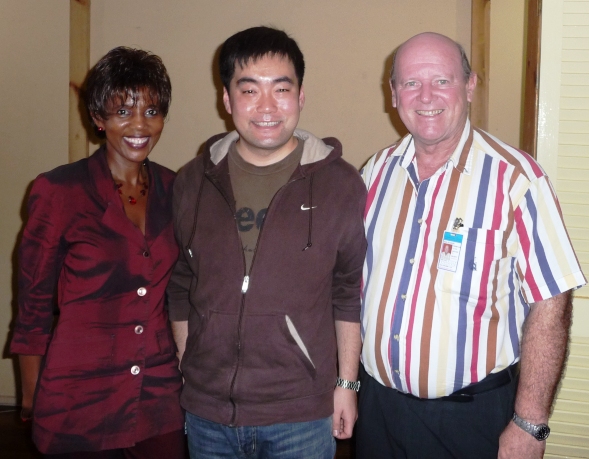 The manager for China Travel Services (CTS), Jia Yin, who is responsible for outbound tourism for Middle East & Africa Department, is in Seychelles to finalise arrangements and logistics for the arrival of this first big group who will be staying for five days.
Mr Jia Yin arrived in the country on January 8 and was met at the airport by the chief executive of the STB Alain St Ange, accompanied by his senior marketing executive Amia Jovanovic-Desir.
Also at the airport was Doris Coopoosamy from 7˚South, the local representatives for CTS who have been appointed to handle this first big group of Chinese visitors.
Mr Jia Yin said that the Berjaya Beau Vallon Bay Resort & Casino, the Kempinski Resort at Baie Lazare and the Meridien Fisherman's Cove Hotel at Bel Ombre are the three resorts who have been selected to provide accommodation for this big group.
Seychelles has been working to open up its doors to the big potential market that exists in China. President James Michel personally led different high level visits to China accompanied by Mr St Ange, as well as other government and private sector officials.
During a meeting with Mr St Ange and Mrs Jovanovic-Desir soon after his arrival in Seychelles, Mr Jia Yin confirmed the company's interest to continue promoting the islands in China.
"This first group could have been bigger, but we were short of airline seats from China," said Mr Jia Yin, as he explained to the STB officials the details of the packages being promoted by the CTS to entice this first group.

Discussions also touched on the need for Seychelles to explore the possibilities of developing twin centre holiday options with an African Safari, a Reunion mountain and volcano tour or with a shopping trip in Dubai, Abu Dhabi or Doha.
Mr Jia Yin will personally be accompanying the first big group of Chinese holidaymakers on January 22.