Artist Michael Adams receives Reunion's Didier Robert in his studio
14-January-2012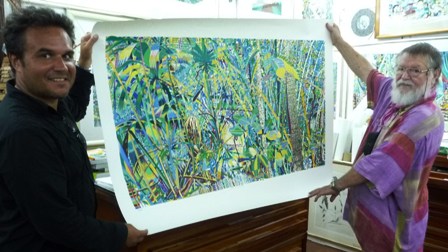 Mr Robert was accompanied by his family and Jean-François Sita, the Vice-President of Région de La Reunion and holder of the culture portfolio, and his own family.
They visited the islands of Mahe, Praslin, La Digue and Denis.
"We wanted Messrs Robert and Sita to appreciate the diversity of our islands. This was important for them to better understand how Seychelles and Reunion complement each other as a twin-centre tourism destination," said Seychelles Tourism Board chief executive Alain St Ange after seeing off the guests at the Pointe Larue international airport.
Reunion and Seychelles both form part of the Vanilla Islands concept.
Reunion is known for the exceptional beauty of its mountains and volcano, whereas Seychelles is known for the diversity of its islands – granitic and coralline – and for its clean and white sandy beaches and clear turquoise blue seas.
Reunion is from this year a co-organiser of the Indian Ocean Vanilla Islands Carnaval International de Victoria that is staged annually in Seychelles and Pascal Viroleau, the head of Reunion Tourism (IRT) was himself in Seychelles last week to finalise the arrangements for the Indian Ocean region's unique carnival of carnivals.
After being greeted by Michael and Heather Adams, Mr Robert and his guests were given a tour of the studio.
Cultural exchange possibilities were also discussed between Messrs Sita and Adams with a possible visit to Reunion by the Anse Aux Poules Bleues-based artist.
Mr Robert was presented with a Seychelles painting by Mr Adams as a souvenir of his visit to his studio.