Natty Reh and Jah Fayah say 'this is our time'
14-January-2012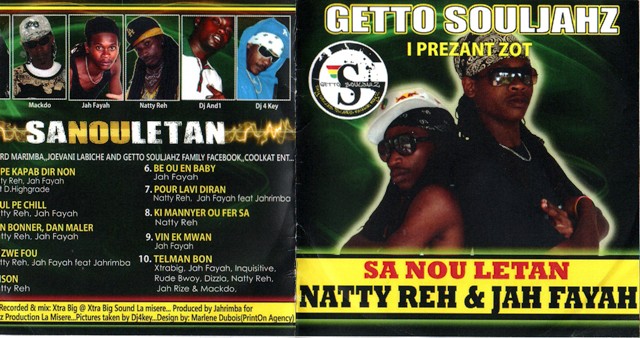 Two of local reggae star Richard 'Jahrimba' Marimba's protégés under the Ghetto Souljah label, the duo's first album entitled 'Sa nou letan' (translated into English as 'This is our time') – has been on the market for some time now.
The 10-track album has been recorded and mixed by Xtra Big at his La Misère studio, while Marlene Dubois of PrintOn Agency worked on the cover label.

Jahrimba, Inquisitive, Rude Bwoy, Dizzla, Jah Rize and Mackdo also feature on the wide-ranging and rhythmic album which took Natty Reh and Jah Fayah six months to complete.
According to Natty Reh, after years of performing in shows and featuring alongside other artists, they felt it was time to come out with something of their own.

He explained that the album's title clearly illustrates their intention to step into the limelight and make a name for themselves, adding that it is also a test to see how people react to their tunes.
Natty Reh has also promised more work in the future, depending on the results and feedback received from people following the release of their first album.
Sa nou letan is available at the usual outlets and can also be purchased at a lower price from members of the Ghetto Souljah.
R. D.