R200,000 on offer for biggest marlin-Marlin fishing tournament
14-January-2012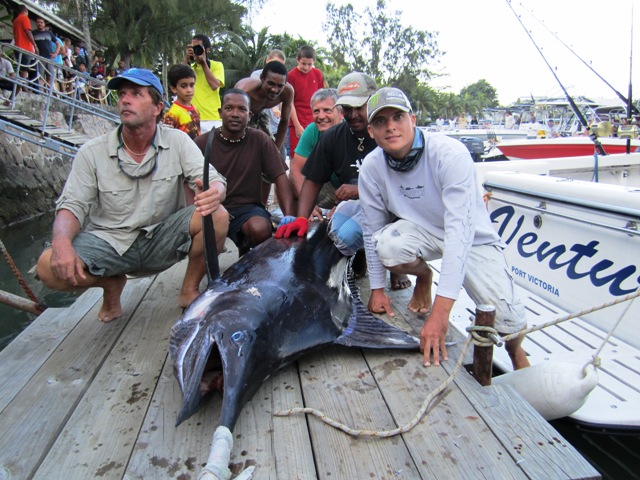 Organised by the Seychelles Sports Fishing Club (SSFC) and sponsored by Highland International, the competition carries a R200, 000 prize money and a beautiful Bodo Muche sculptured trophy
According to the organisers, the tournament will be held in the name of sportsmanship and friendship as fishing is a sport for honest and sincere anglers.
Strict rules have been set and all those taking part should abide by them and ensure that the competition protocol is observed, while the true values of sportsmanship must be applied.
The SSFC explained that if any team are caught breaking the rules, they will be disqualified and may be banned for life from taking part in any future tournaments organised by the club.
On the other hand, the SSFC said all those who want to fish and win the tournament through hard work, angling skills and a little luck on their sides, should join and fish like gentlemen and ladies in a clean, open and honest competition where the love of fishing will be more important than winning.
The SSFC also added that the tournament will also promote the conservation of Seychelles' fish stocks, especially billfish (marlin and sailfish).
The club said its wants to preserve our resources so that our children can also enjoy the thrill of pulling in a billfish one day.
There are no prizes for total catch and average catch, and bringing in multiple billfish is no guarantee the anglers will win the tournament.
Anglers are also being advised that if they hook a second marlin that appears smaller than the first one caught, they should release it. They are also being urged to be sound in their judgment and to release as many fish as possible.
The competition is open to trolling only and jigging is not permitted. Boats of all sizes can take part and all teams must be made up of a minimum of two anglers. Departure time is at 3am on Saturday January 21 from the Eden Island marina only.
All boats should be at the Bravo Restaurant pontoon at the Eden Island at 5pm on the same day.
The entrance fee is R 5,000 per team and there will be no refund once a team have registered.
However, a team may switch to using another boat prior to the registration deadline which is at 6pm on Friday January 20.
A meeting for skippers and team members will be held at the Bravo Restaurant at 6pm on Friday January 20 for final debriefings.
Officials and organising committee members have the right to board any boat for inspection prior to departure. The boat will automatically be disqualified if fish other than bait is found on board.
They can also board any boat at weigh-in and inspect the equipment used. Team members may be asked to submit written accounts of the catch or may be questioned by the weigh master.
Failure to allow an inspection to be carried out or refusal to answer the questions will result in disqualification.

Before leaving the Eden Island marina at 6pm on Friday January 20, each team must leave a sealed envelope with the tournament officials stating the area where their boats plan to fish during the competition.
This information will only be used in the event of an emergency – engine failure or request for help.
All boats in the vicinity are being asked to respond and in such a circumstance, boats that have volunteered to help another one will not be penalised for arriving past the competition deadline time of 5pm.
International Game Fishing Association (IGFA) rules will be applied. Fish must be caught on rod and reel only using live bait, dead bait or artificial lures. Electric reels and long-line winches are not allowed.
Jigging is not permitted. Hand lines will be allowed for running teasers behind the boats only.

The record to beat is a 250 kg marlin hooked by the crew of the Venture boat – Martin Wartelsteiner, Pierre Wartelsteiner, Roman Paasch, Gene Jeannevol and Jacquelin Languila – during last December's tournament.