Recording studio owners and sound technicians upgrade skills
16-January-2012
Led by French sound engineer Abena Atangana, the workshop lasted four days during which local sound technicians learned among other things how to make maximum use of their equipment and also to cut down on the time it takes to record a song.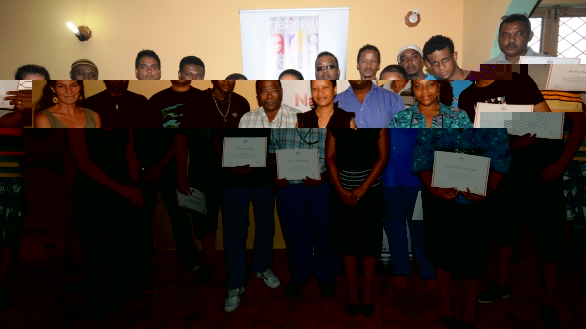 They also learned to produce better quality sound for their clients.
National Arts Council (Nac) chief executive Benjamine Rose attended the last session of the workshop and said the initiative came after the producers and technicians asked for more training during the symposium organised last year by the Nac.
Ms Rose told the technicians she is sure this is only the beginning of a passionate adventure in the development of music production in Seychelles.
"We hope that in the future, we will be able to listen to music of far better quality coming from our local studios," she said.
"This workshop will equally be beneficial to musicians who will now spend less time in the studio and thus spend less money on recordings. This will make the studios available to other artists."
Mr Atangana, who presented certificates to those who had taken part in the training, said although a change in mentality is needed in the music production business in Seychelles, the producers and technicians made good progress during four days.
"The main problem – even in mainland Africa – is that the economic crisis has hit music production hard and with it the love for music has been overshadowed by the need to make money," he said.
"But I have also seen good progress, to the extent that at the end of the four days, I was mostly relaxing while they did all the work! There is good potential to achieve great things in this industry here, but the love for music must remain a priority."
Mr Atangana said he got himself accustomed to Seychelles music while here and is impressed by it.
"Seychelles' music has the potential to penetrate the French music industry, although one would have to go to it, instead of waiting for it to come to you. And with it one would have to produce quality music, which I have emphasised on in this training."
Ms Rose said it is sad that a number of studio owners could not attend the training because of work commitments, although the National Arts Council will have follow-up training as soon as possible.