Power restored after blackout on la Digue
16-January-2012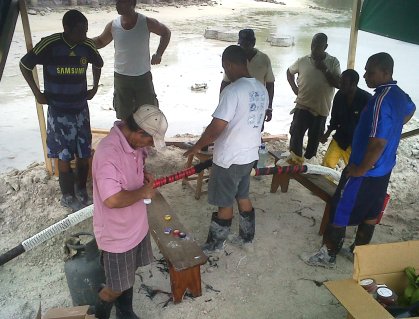 The Public Utilities Corporation (PUC) restored electricity on the island at 2.30am yesterday after the island had been in total darkness and without water supply since Friday night.
Despite rain, PUC engineers worked all day Saturday to repair the fault that caused the power cut which affected homes and businesses. They succeeded to keep the network up almost 27 hours after Friday night's outage.
According to the PUC, the fault originated in the Baie Ste Anne area after a submarine cable which relays electricity supply from Praslin to La Digue was damaged during dredging work.
The PUC added that it was around 11pm on Friday that it noticed the seriousness of the problem and decided to shut down power before identifying the broken part of the cable.
A second submarine electricity cable connecting Praslin and La Digue was also damaged in August last year and the PUC said it has just received spares to repair it and work will start soon.
PUC chief executive Philip Morin said work to repair the cable damaged last year is a top priority and will start next week.
The total cost for both repair works will be between R250,000 and R300,000.
Other than the black-out, people on La Digue also had no water supply. This is because electricity is needed for the water pumps to work and supply the island.
The PUC used bowsers to distribute water before transferring a generator from Mahe to La Digue to get the pumps working again and that was before electricity was restored.
Meanwhile, the PUC is apologising for the inconvenience caused by the power outage on the island and thanks all La Digue consumers for their patience and understanding.