La Fontaine holiday apartments and villas offer exclusivity and comfort
16-January-2012
Opened only six months ago, the establishment -- owned by the De La Fontaine family and consisting of a four-bedroom villa, another of three bedrooms and a dozen apartments -- is already welcoming some repeat clients.
Others, only too happy to have discovered this exclusive vacation spot, often decide to prolong their stay to up to three weeks!
Until four years ago, the area was rather difficult terrain, with escarpments and huge granite boulders.
Part of it was planted with vegetables, which was sold to the Fisherman's Cove and other hotels.
The boys of the De La Fontaine family -- Selwyn, Vivian, Dominique and Richard -- were however determined to make something special of the place and set to work. They cleared the site, used heavy earth moving equipment for landscaping, broke the granite boulders and built stone retaining walls.
They were often guided by their dad, Philippe, a former forest officer, who worked on many islands before moving back to Mahe and going into the timber business prior to his retirement.
Both villas have one air conditioned bedroom on the ground floor and the rest at the top. The 12 apartments are all two-bedroom and housed in two blocks between the villas.
They all have spacious living and dining room and kitchen and private balcony overlooking some of the most panoramic mountain scenery, while being within walking distance to Beau Vallon beach.
Facilities include cable TV, DVD player. Clients may purchase cards at the reception for telephone and Internet.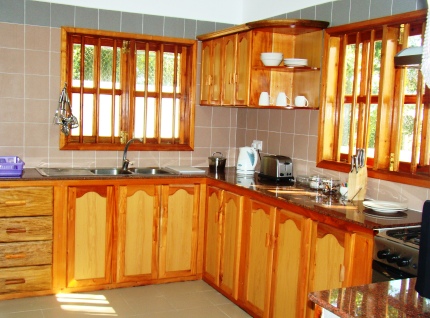 While clients have a fully equipped kitchen to prepare their own meals, breakfast is optional for an additional charge.
The family also owns the La Fontaine Restaurant in central Beau Vallon, which provides Creole seafood as well as continental dishes and pizza and pasta.
Clients benefit from a free minibus shuttle to have lunch or dinner there if they so wish.
There are also barbecue facilities for those wishing to do something a bit more extravagant, such as the Russian couple, who last week went fishing and having caught tuna, bonito, barracuda and dorado, was determined to grill the fish themselves.
Though located in a tranquil, exclusive area, security for clients is enhanced by a fence, cameras and lights. The place is also guarded at night and the family house is just a minute down the road.
The architecture of the villas and apartments is very much creole, with green roofing and wide use of local timber, notably mahogany, Bwa Zonn and Kalis Dipap for the doors, windows, cabinets and much of the furniture, reflecting the liking for wood and wood products which runs in the family.
Another striking feature is a proliferation of exotic palms, some of which are almost fully grown. Selwyn notes that many were planted as soon as the earth moving equipment had moved out, before building started.
More have been planted recently, which in due course will provide a lot of green foliage for the premises, especially the children's playground - which boasts a "la fontaine" (or water fountain).
Still coming up is a small gymnasium to cater for guests.
Selwyn, who runs the establishment with his eldest brother Dominique, says that six months after opening its doors to vacationers, he is satisfied by the response.

"Many say they will come again and already some do," he says.
Some DMCs (destination management companies), such as Masons and 7 Degrees South often send clients. There is also a fair share of clientele among foreigners here on business.
La Fontaine is ideally located in close proximity to shops, restaurants, disco, clinic and police station.
"There is not much advertising, but good publicity is generated by word of mouth," says Selwyn.
The place is ideal for families, couples and small groups travelling together and of course singles. The La Fontaine family insists that the establishment remains exclusive.

J.L.