World Bank country chief received at State House
17-January-2012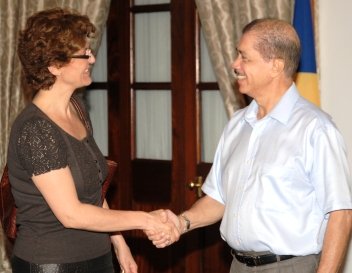 Country director for Seychelles Haleh Bridi and country economist Sakut Rojid yesterday called on President James Michel and Vice-President Danny Faure at State House to brief them on the ongoing process.
The CPS is a document which will outline the strategic direction for the World Bank's engagement in Seychelles for the next five years.
Various missions from the international institution's country team visited Seychelles regularly last year to meet government agencies, civil societies and the private sector to get their inputs for the CPS on which the World Bank started work a few months ago.
"It is important when preparing such a strategy to consult other entities to make sure our strategy is in line with what the people, private sector, government and parliament of a country would like it to be," said Ms Bridi.
She added that once all these inputs have been included, the document will be finalised and submitted to the World Bank board for approval.
"It is a process which ensures that our strategy is responsive to the needs of the people of Seychelles."
Ms Bridi described the inputs received as very positive and constructive.
She explained that immediately following the approval of the CPS, the World Bank will be considering a new lending operation to Seychelles which will imply a number of policy improvements and consolidation the country needs to carry out.
Some of those policy improvements are already being discussed and include, for instance, improving and consolidating the social protection system, improving the efficiency of health services delivery, further improving the investment climate, relooking at the gender issue – household headed by females, female poverty issues, among others.
Ms Bridi said the report is expected to become final by the end of this month.
It is expected that Seychelles will receive financial help of US $7 million for a period of three years from the World Bank once the CPS is approved, said Ms Bridi.