Up Close … with Clency Marengo aka CURIOUS-'Always be original so that people spot your uniqueness …'
17-January-2012
My first impression in fact was of a shy person which wasn't the case at all. From the get go I found myself laughing and generally having an amazing – albeit random – conversation with him to the point where I almost forgot I was conducting an interview.
Curious yet? – pun intended. Think about it.
And for those who take a little longer to process or who have just only figured it out, yes I am talking about Clency Marengo aka CURIOUS!
Tough beginning
Born on December 7, 1987, the young talented artist confessed he hasn't always had it easy in life.
"My dad was an alcoholic and he and mum got separated when I was around 12," said Clency looking surprisingly at ease with talking about it.
"My big brother wasn't really around much at the time so I just had to learn to manage a household on my own. I had a baby sister to take care of while basically trying to balance out a budget, cut grass and continue my education, so yeh, it really wasn't easy."
Despite the setbacks Clency said he tried hard to balance out his studies with home duties.
"I went to Anse Royale primary then secondary after which I moved to ITC then SIT to study electrical installation."
He now works with the Public Utilities Corporation (which was where I met him for the interview)
installing wiring and testing electrical equipment.
"I have loads to do in a day," he said, pointing to a stack of papers sitting on his desk. "Imagine having to wire big houses or lots of offices," he shook his head laughing. "Yeh, it's a lot of work".
"I wanted to become a presenter for Paradise FM since I had worked there as attachment for a while. That was back in the day when Richie B was still on air," he said.
His response to why he didn't go ahead with it at the time was, "I hate French. Part of the criteria of working as a radio presenter was fluent French and since I'm not exactly what you would call a fan, let alone fluent, well," he said shrugging.
Learning the trade
As for music, Clency said it grew on him gradually.
"During my parent's separation things sort of went downhill for me. There was some bad influence and at one point I found myself just hanging around outside the local shops basically being a pti menn and having a bad attitude. That was when my brother dragged me into music."
And by music, he meant band. Clency found himself involved with New Sound which was set up by one of the former group members of the Waves group, Serge Oredie.
"I guess that's where my love for music really came in. I was about 12 at the time and we started off you know, singing other people's songs; famous groups and artists at the time like Ragga Blastaz, Ambitious and such. We eventually moved on to entertaining at fancy fairs after mass," he said laughing.
"Our big break came when our song Crazy came out. It was bought by Terry Celeste in collaboration with Eddy Thelemaque – two guys who helped us a lot at the time. From there we got invited for small gigs -- weddings, parties and the like."
Unfortunately though, due to different schedules and priorities of the members, the band eventually broke up.
That's when I met Melval Magnan, a fellow singer, who also became part of the band and a helping hand up until now."
Rough seas
Clency said he began to walk away from music for a while.
"It was a dark time for us. Mum had been diagnosed with cancer and she was really ill. I did manage to come out with one other new song though entitled Mon Sel Ve after which I abandoned my music again for another eight months ... I guess I was recuperating from mum's death. I had to take care of my little sis you know."
Guess who's back!
After that time though, Clency was back on the music scene with a vengeance.
"I came out with Voix Des Seychelles which I produced myself – Royal Sound Music Production – and which comprised other local artists such as Chicco, Vurna and Ion Kid."
Clency was on a roll and had sung and produced a number of projects by the end of that year including Sa Sel Fanm which was eventually sung by Chicco, Mon chou chou, 100% Son Nwel ek Lannen in collaboration with Bloodline Record (Ion Kid) and finally Voix Des Seychelles volume 2.
"It was a lot of work but I'm happy with where I am and proud to say that all my songs are originally my ideas; my beats and my rhythm."
"Last year was a busy one," he said. "I once had 21 shows in a row to do but could not meet the demand."
In August 2011 Clency released his first solo album Curious Konplet which was followed by being voted No. 1 in November for Cable Tunes and No. 1 with 135 public votes – also in November – on Vibes.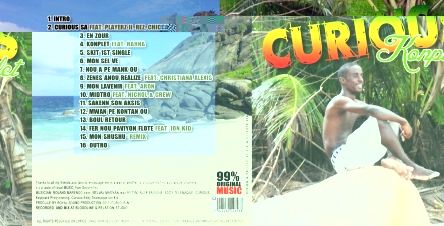 What goes around comes around
All this came before the popular Boul Retour – a song on his new album – blasting from our local Paradise FM broadcasting station.
Clency laughed and shook his head. "Wow, yeh it has made quite a bang hasn't it?"
Of course it has, it's become somewhat of an anthem among youths all over the country. Unfortunately, inspiration for the song wasn't what many would call a happy one.
"I was seeing this girl," he began. "Nice, really sweet. She was a Praslinois, so we had to divide time between her coming to Mahe and me going up to Praslin. Unfortunately, I wasn't the only one she was seeing and it just so happened that on an unplanned trip to the island I caught her with the other guy. Without going into too much detail, I ended it and what's funny," he said, looking thoughtful, "is that she's now expecting a child for him and he's treating her exactly the way she treated me."
Ouch! Boul retour or what!!
After much small talk, I decided to rate him on his people skills.
So what are you like?
"I like to think I'm a friendly guy." Check!
"A movira." Check!
"I'm also quite hot tempered, can sometimes be aggressive and have a bad habit of swearing," he said smiling. Ok, moving on!
More work in 2012
2012 will also likely be a busy one for Clency.
"I'm planning two other compilations; one involving the youth – I haven't come up with a title yet – and Voix Des Seychelles Volume 3 which should be ready by October hopefully."
"In fact I've been saying so much I just need to add something," he said leaning onto the desk.
"I have so many people to thank who have helped get me here and helped me with my music and I just want to make a special shout out to four of them; Roland my bass man, Alex on the keyboard, Melval my lead guitarist and AAP on Paradise FM. Thanks guys."
A final note and advice to music lovers
"Do not ever rush with what you are doing, always be original and leave your trademark so that people can identify you and spot your uniqueness in the art."