Charitable body hosts blood donation camp
18-January-2012
This comes a month after the foundation successfully organised a spine clinic in collaboration with the Ministry of Health, whereby seven patients were surgically treated for spine ailments.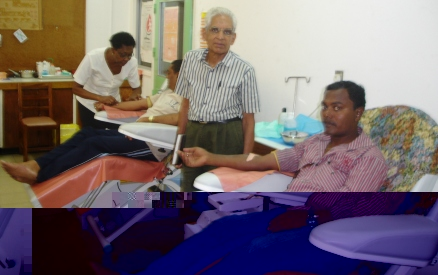 The blood donation on Monday was carried out as a pilot project where donors were invited from Vijay Construction, through the medical officer in charge of Vijay Health Clinic, Dr Reddy.
The founder of JJ India, Surya Khanna -- a Seychellois of Indian origin living in Seychelles for the last thirty years -- noted that the foundation wishes to organise regular blood donation camps and will maintain the record of donors, so that in case of an emergency, the BTC can request for a particular group and accordingly the donor can be contacted.

At present there are 250 regular blood donors registered with the BTC, which collects about 100 units of blood per month.
Blood is required by people who find themselves in various perilous situations. They include, among others, accident victims, haemorrhaging pregnant women, babies born with jaundice, leptospirosis or burn patients, patients with cancer or kidney problems, patients with anaemia or sickle cell disease or people with blood not able to clot an ailment known as haemophiliacs.
Anyone with good general health, with body weight not less than 50 kg and between the ages of 16-63 years (both male and female) can donate blood.
Another important requirement is that the donor has to be in Seychelles for at least three months before donating blood.
There is no risk involved of acquiring any disease such as HIV, hepatitis B or C through donating blood as sterile and disposable equipment is used for each donation.
Healthy adults can give blood regularly every three months and women can give every four months.
A regular supply of blood is vital as the red cells normally last for 35 days.
Without regular blood donors many people may die because of insufficient blood in the BTC.

Blood transfusion is safer now than it has ever been. All donated blood is tested thoroughly for dangerous viruses.
Before the BTC accepts the donation of blood, the donor is registered on a first visit and vital information like name, age, work address, and residential address collected and the health condition is checked.
All the information is kept confidential.
The information on medical history, treatment undergoing if any, along with weight, blood pressure is checked to ensure that the donor is fit to donate blood.
A small sample of blood is collected to check if the haemoglobin level is in safe limit. Haemoglobin is the blood component capable of transporting oxygen around the body.
A total of 450 millilitres of the blood is taken during donation, which usually takes 10 minutes.
After donation, the donor rests for 10-15 minutes and some refreshments along with tea, coffee or juice is offered.
After donation, donors can return to work and carry out their normal activities, although it is recommended that strenuous exercises be avoided for the rest of the day.
Plenty of fluid intakes are recommended during the next 24 hours after donation of blood.


Those wishing to donate blood and help save lives may contact JJ India on 2711118/2525363 or directly the BTC at the Seychelles Hospital.