Stakeholders discuss traffic management in Victoria
18-January-2012
Yesterday's meeting to discuss traffic management in Victoria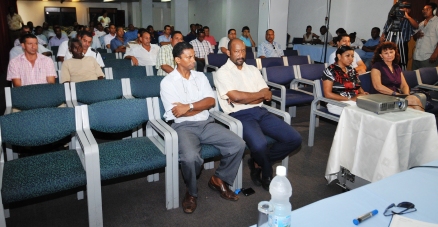 Organised by the Seychelles Land Transport Agency (SLTA), the Seychelles Public Transport Corporation (SPTC) and the department of transport, the meeting was held at the International Conference Centre. Although a rather disappointing turnout from the public, the event was still a lively one, where a number of presentations were given by the panel on the current status of traffic in Victoria.
Present at the meeting were the Minister for Community Development, Youth and Sports Vincent Meriton, secretary of state Barry Faure, and a number of high-ranking government officials such as principal secretaries, chief executives and directors.
The main focus of the meeting was to search for short-term solutions that could possibly be implemented immediately.
A presentation by Patrick Andre, who has just been appointed as the new Road Transport Commissioner, noted that traffic congestion in Victoria is a concern for everyone and that the length of time of traffic jams has increased significantly to the point where there does not seem to be a peak and off-peak period for traffic flow.

He also identified the areas where traffic is concentrated most and said the improvement of roads in Victoria have not been directly proportional to the developments taking place there.

"If we could build roads that go around the town and not through it for those who are only transiting through Victoria, it would help ease the congestion," he said.
"We have around 16,000 vehicles using our roads today and it should be noted that in ten years' time, traffic will have increased by 50% of the present figure, a situation which we need to cater for as soon as possible."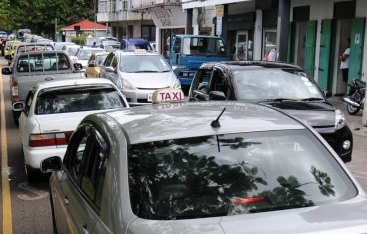 He added that the light-rail system is an option but only in the long term, as is the idea to increase the dual carriageway from Bois de Rose's Le Chantier roundabout to possibly as far as Anse Royale.
Those present were also told of a short-term project by the government to install traffic lights at major junctions in town due to start in two weeks.
The audience also had a number of issues they put forward to the panel, such as whether work could be done on a faster way for the police to deal with accidents.
Concerns were also raised on bus drivers who do not enter bus stop lay-bys at times of congestion, and whether tractors hauling trailers and containers could not travel only at night to ease the situation.
Some people asked for more training to be given to traffic wardens, while others suggested that two lanes in a roundabout should have two exits, to which the panel agreed.
Ideas on a multi-storey parking facility was said to need a proper survey on whether it would be feasible and also be used to its maximum potential.
Some people said the SLTA's television adverts on how to use the two-lane roundabouts were not clear, and that work should be done to ensure the smooth flow of emergency services even at times of traffic jams.
The meeting ended with the panel's promise to analyse the suggestions and work on addressing the traffic management and congestion issues as soon as possible.