Indian naval ship on patrol in Seychelles' EEZ
19-January-2012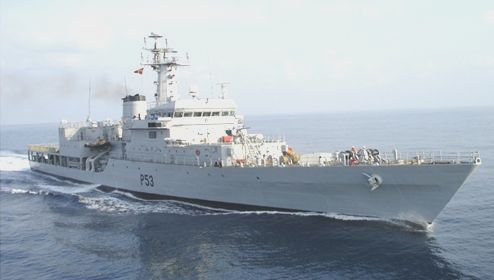 During the deployment, which started on Tuesday and will run until Saturday, the ship will be visiting Port Victoria and will be carrying out extensive training for personnel of the Seychelles People's Defence Forces (SPDF)/Seychelles Coast Guard (SCG) on counter-piracy and boarding operations, damage control and firefighting, vessel protection duties and first aid.

In addition, the ship's crew will also provide technical assistance to the SCG.
The visit is part of a routine operational deployment to Seychelles undertaken by the Indian Navy periodically.
The ship will carry out extensive EEZ surveillance in the designated areas of Seychelles with SCG and SPDF personnel on board.
During the EEZ surveillance, the SCG and SPDF personnel will be trained in navigation, seamanship and various counter-piracy operations.
INS Savitri is part of the Eastern Fleet of the Indian Navy and is well equipped with state-of-the-art equipment and sensors. The ship has a complement of marine commandos as well as an integral helicopter to assist in the counter- piracy operations.
The ship is under the command of Sunil K. Pandey and has 14 officers and 105 sailors.