Meteorological services holds 'Aviation Weather Open Day'
19-January-2012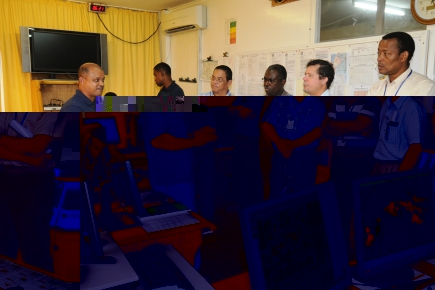 Guests were briefed on general aviation and marine forecasting, forecasts for media, training, research and early warnings.
They later toured the Met office observatories and got to hear more technical details about climate and research, as well as weather services.
Among other equipment, they were shown parabolic antennas for the reception of meteosat information.
The NMS has a staff of about 30 and operate 24 hours daily.
Guests at yesterday's event were from the environment department, including principal secretary Didier Dogley, the Seychelles Civil Aviation Authority (SCAA) and airline officials.
In his address, the permanent representative of Seychelles with the World Meteorological Organisation (WMO) Wills Agricole said the need for an accurate, reliable and intelligible weather information has never been greater, whether on TV, online or by phone.
He said while people want to know what the weather has in store for us and concern is mounting over climate change, the aviation sector has particular interest in weather forecasts.
Mr Agricole said the objectives of this Open Day were to exhibit to aviation operators what the NMS has achieved so far to improve on service delivery and what are the plans to serve them better in future.
"This event is set to enhance the rapport between members of the aviation community and to gather important customer feedback which is an essential driver for managing the quality of any service delivery, in addition to promoting public awareness on the importance of aviation safety," he said.
Mr Agricole recalled that aviation meteorology started in 1971, with the opening of the Seychelles International Airport, as it is a prerequisite for the International Civil Aviation Organisation (ICAO), as well as the WMO, that all international airports are equipped with a weather watch station - hence the rationale of NMS' existence.
Since then, the station has developed not only to provide weather information to aircraft, which are now more precise for landing, take-off and cruising, but has also expanded to provide services for weather broadcasting, Montreal Protocol Compliance and ozone monitoring, marine meteorology and climate change studies, to name a few.
There is also an Early Warning System for different weather hazards and tsunami linking with the Division of Risks and Disaster management (DRDM).
Mr Agricole said that in 2007, ICAO sent a team to audit SCAA and made a number of recommendations to ensure that meteorological aviation services and products meet required standards.
He said that with the support of the government and the SCAA, the meteorological services has been able to make great progress in achieving all objectives.
Jean-Paul Dodin of the NMS technical unit told guests that its main duties are to provide technical support to the operations which consist of the two main branches -- the Climate and Research Services and the Weather Services.
The unit's functions include: IT network administration, equipment installation and maintenance follow-up, trouble shooting all technical problems, planning and execution of modifications and major repairs .
Mr Dodin explained that the basic meteorological instruments commonly used for weather observations are thermometres, thermographs, hydrographs, barometers, sunshine recorders, anemometres, anemographs, rain gauges and wind vanes.
Besides the main Met station at the International Airport, there are also two automatic electro mechanic stations on Aldabra (600 miles south of Mahe) and Denis Island (60 miles north).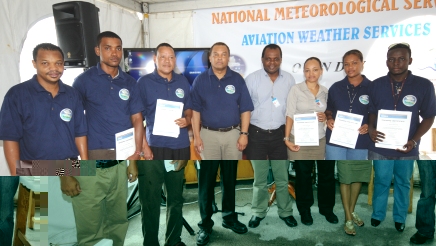 At yesterday's Open Day, PS Dogley also presented certificates to staff who had followed training in automatic weather station operations and maintenance.
They also included an employee of Zil Air, a private company operating a fleet of three helicopters and one plane.