UniSey finalises study guides for new degree course
19-January-2012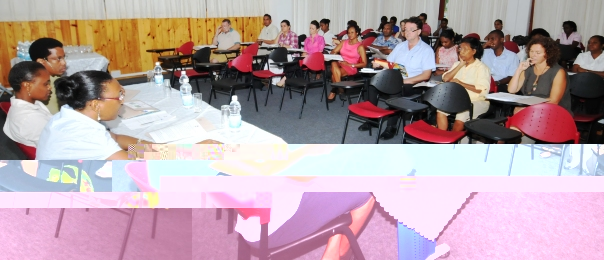 During a half-day workshop at the UniSey campus at Anse Royale, stakeholders from both government and non-governmental organisations reviewed and discussed the different components and contents of the course and added their inputs before the guides could be validated.
The course is expected to start in March this year.
The workshop was led by Elvina Henriette, the course coordinator.
The discussions were launched by the acting dean for the Faculty of Science at the UniSey, Shirley Marie.
In her opening remarks, Ms Marie said the course has been designed to enable students to develop a personal response to environmental challenges they encounter not only here but in the region and beyond.
Ms Marie noted that environmental science is a rapidly progressing, vibrant and exciting field of study with excellent career prospects in Seychelles and beyond.

She added that it is also a scientific discipline that is having a profound effect on society as environmental concerns are placed even higher on the public agenda.
"Our growing population places demands on energy, transport, housing, among other needs while climate change threatens the security of the most vulnerable in societies, especially in small island developing states like Seychelles.
"Moreover, global environmental change is eroding the climate's biological diversity and natural hazards and catastrophes are threatening our lives and livelihood," she pointed out.
Ms Marie noted that solving these urgent problems among other emerging issues requires the expertise of environmental experts and managers.
"Through the BSc in environmental science with specialisation, students will be trained to understand the complex interaction between the physical environment and the biotic system, among other related aspects. They will also be equipped with skills to provide solutions to such challenges," she added.
Ms Marie said it is hoped that this degree programme will help the country to address long-term capacity challenges in ecosystem-based adaptation for enhanced conservation, sustainable development, natural resource management and respond to climate change by providing knowledgeable and skillful environmental graduates.
The course is being offered on a full-time basis for three years and on a part-time basis for a period of five years.
Ms Henriette said the guides were developed by curriculum leaders with contributions from experts from related fields but added that the stakeholders' contributions will fill in any gaps as there is still room for further inputs.