New trolleys at airports to improve customer service
20-January-2012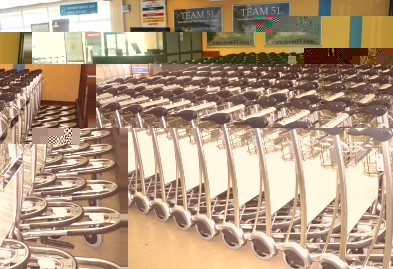 Ordered last year as part of the Seychelles Civil Aviation Authority's (SCAA) efforts to improve customer service at the airports, the 258 new high quality luggage trolleys arrived in the country on the same day.
Manufactured in Germany, the stainless steel trolleys are 102cm high and 98cm wide, with the capacity to hold up to 200kg. They are also equipped with self-adjusting automatic brakes, making them safer and more user-friendly.
Each baggage trolley has a double-sided advertising panel and a smaller panel at the top. The advertising spaces are being made available to businesses and interested parties who would like to advertise their products and services to the 500,000 passengers who go through the airport yearly.
Since the porterage service was transferred from Air Seychelles to the SCAA in May 2011, the local aviation authority decided as part of its effort to improve customer service to replace all the old trolleys which had been around for a number of years.
"The old brown trolleys have been removed completely. The authority will receive another batch of 192 trolleys this week, after which the older white ones will also be removed from service," said Patrick Hoareau, general manager airport management.
Forty of the new trolleys will be sent to the Praslin airport.