President tours Ile Perseverance
20-January-2012
He also visited some residents, the location of a supermarket, the district administrator's office, the site of the internet café and gifted a wheelchair to a disabled child, before moving to Ile du Port to view the stockpile of offshore sand recently dredged for the building industry.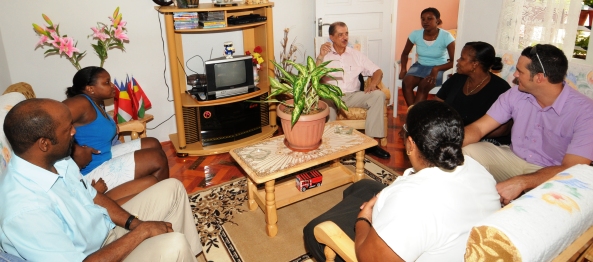 Following the foundation stone laying ceremony for the first primary school and creche on Ile Perseverance, President Michel visited a couple of residents who recently moved into their new homes on Ile Perseverance Two. One was Suzanne Auguste, formerly of English River, who just moved in Monday, while Innocente Kilindo, who had lived at Anse Royale, had waited over 20 years for her new home.
The two or three-bedroom units all have Creole style architecture. The bathroom and toilets have been tiled, while kitchens are fitted with cabinets.
It is expected that the residents, especially those who choose to purchase their homes, will have them tiled according to their choice.
Some 450 families are now settled on Ile Perseverance and ongoing construction of new units will allow 300 to do so by the end of the year, President Michel said.
That is besides 180 extra units being built elsewhere and spread over various districts.
Speaking to the press later, President Michel said he can see Ile Perseverance developing into a little town.
He urged residents to live together as good neighbours, and to plant flowers and shrubs around their houses.
President Michel said Ile Perseverance is the first such place where many residents will have to live together in a new environment.
He noted that as such, it was a departure from the traditional way of living whereby families each lived in separate houses.
President Michel said though much of the infrastructure has still to be laid, it has already earned the admiration of foreign delegations.
Athletes of last August's Indian Ocean Island Games (IOIG), for instance, claimed it was a most beautiful place.
The President also viewed the sandy beach building up in front of the village, which had delighted athletes from Reunion who, upon arrival, immediately put on their swimwear for a good dip.
The President also visited the site where a supermarket will be built, until plans for a proper commercial complex, entailing both large and small shops, will be finalised.
The site was formerly used by the contractors involved in the reclaiming of Ile Perseverance.

President Michel also viewed the site of the Internet café, formerly used as shower rooms for IOIG athletes.
There are presently two district administrators on Ile Perseverance – Georgie Nicette and Denise Clarisse – and their offices are temporarily located in housing units.
Two residents who have recently moved to Ile Perseverance were lucky to have drawn lots giving them housing units with photovoltaic panels fitted onto the roofs.
The system is being tested as a possible renewable energy system.
Residents can tap into the energy converted by the panels during the day, but for the time being must switch to the PUC grid at night.
The two photovoltaic panels have been gifted to the Ile Perseverance housing village by businessman Radley Weber and is being used on a trial basis.
President Michel told the press that he views renewable energy sources as the future. He said if the system is found to be adapted to local conditions and needs, it is possible that future residential areas, such as Ile Perseverance, can become autonomous for electricity consumption.
President Michel also gifted Karim Hoareau, an eight-year-old disabled boy a wheelchair. Karim is living with his mother, Linda Larue, who has to care for him all the time.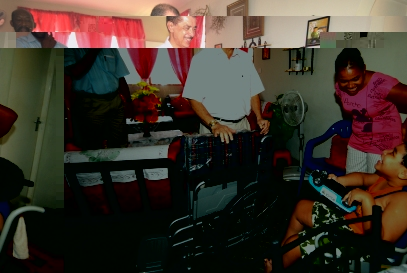 A member of the presidential entourage told Nation that was in response to a letter to the Head of State by Ms Larue.
Following the visit to Karim, President Michel said it was obvious that our social protection service does not often cater for people with specific needs.
He said disabled people like Karim have rights, despite certain disabilities and no effort should be spared to allow them to develop their full potential.
The last stop of the presidential tour was Ile du Port, where a huge stockpile of "offshore sand" was recently dredged up for the building industry.
Such material is different from coral fill in that it is fine material, dredged 10km offshore in an "old river bed" at sea.
Once washed and sieved, it can be used for all kinds of construction work, such as blocks, concrete and even plastering.
As such it can be a substitute for rock sand, which is more expensive.
Special advisor for reclamation, Patrick Lablache, said that stockpile of 500,000 cubic metres should last for around five years.
The sale of the new material begins in two weeks and security measures are being taken to prevent poaching.