The pros and cons of social networking
20-January-2012
However, many users now access the Internet primarily to socialise. Facebook, Twitter,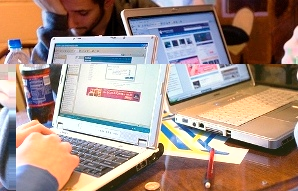 Qzone, MySpace, Hi5, Linkedln are amongst the many social networking sites that have become extremely popular over the past couple of years.
Social networking is said to be the main driving force behind new forms of social interaction and has now become for many people a mainstream communication technology.

Social networking is a big part of the daily routines for many people. From being able to keep up with friends to meeting new ones, from general chit-chat to propagating news and scheduling dates, from gentle humour to serious research, social networks are used for a host of reasons by different user communities.
ComScore, a leading marketing research company in the United States of America (USA) rates facebook (http://www.facebook.com) as the largest of the many social networks and is second only to Google in terms of popularity on the Internet. According to the latest statistics, there are now more than 1 billion social networking users worldwide.
The impressive growth of social media and networking has attracted much attention because they have made personal relationships more visible and quantifiable than ever before. They have also become important vehicles for news and channels of influence. Twitter regularly scores headlines with its real-time updates on events, tragedies such as natural disasters or terrorist attacks and on the activities of its high-profile users, which include rap stars, writers and royalties.
It is well documented that social networks mainly, twitter and facebook played a starring role in the online campaign strategy that helped sweep Barack Obama to victory in the USA's presidential race.
It is widely thought that social networks are mostly associated with the younger segment of the populace.
In this connected world of ICT, there are many positives associated with the cyberspace. Social sites are used as portals for various institutions and organisations. Educational institutions can create groups where users can access and share valuable information, including research notes, and take part in events and activities online. Business communities are tapping into this pool of connected community to sell and market their products.
In spite of the all the positives of social media and networking, people often fall victim to the many ills of cyberspace.
It is therefore important to look at the good side of social networking and also some of the negatives but crucial aspects as well.
Users often fall victims because they are unaware of the negative aspects and potential threats of cyberspace and this is especially true for the newly connected.
Perhaps, the most important aspect of social networking is the increasing or at least the perceived loss of privacy.
Most users have a list of friends which is continuously being updated.
Through the list of friends users are interacting more and share information about their routines, locations, age, sex/gender and other information they perhaps do not want everyone but a selected few to find out about.
However, the potential of other users finding out sensitive information exists.
Usually once an item has been posted online; it is very difficult if not impossible to remove completely.
It is common for users to post online photos and videos of another user without seeking consent, and comments on them.
For some, privacy may be a minor issue however, for others it could prove to be costly.
Social networks are meant to be fun in most cases, unless it was intended for other reasons beyond "socialising", such as for research purposes.
Nevertheless, some users spend many hours online that it could prove to be a time sink and an addictive place for them.
For many users especially children, socialising in the virtual world may eventually replace interaction and meeting of new people in the real world.
It is therefore especially critical that parents monitor their child online activity.
This is critical for children, as nothing can replace the interaction between real people for their development.
In Seychelles, social networking is very common amongst the online community.
Certainly, Facebook, Myspace, Badoo and Linkln are probably the leading social networking site in the country.
Social networking site can be easily accessed through an Internet connection. Having an Internet connection at home in particular broadband access increases participation in social networking sites.
Statistics of the 2010 census illustrate that the number of households with Internet (Internet connection from PC) has more than doubled. In other words the Internet household penetration has increase from 7.1% to 18.2, since the census in 2002.
As it has been the case in many countries, as the Internet access in the home increases so will the use of social networking sites.
However, people are increasingly going online and accessing the internet through mobile devices considering the rapid growth of smart devices and intelligent application which are constantly hitting the market.
"Going online" should not be too much of a worry if one is aware of the drawbacks and potential dangers that it poses, and adopts a degree of safety precautions and security.

All in all, once you understand the advantages and disadvantages of socialising in a virtual environment, no matter the type of networks, then your online experience should be a breeze.
Contributed by the Department of ICT