Chief executives join fight against HIV/Aids
21-January-2012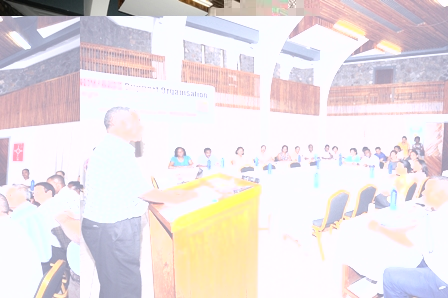 This was during a half-day workshop led by the HIV/Aids Support Organisation (Haso) at the National House on Thursday.
Present were secretary of state for cabinet affairs Mohammed Afif and Haso's chairperson Justin Freminot.
The aim of the workshop was to get the chief executives to learn more about the situation of HIV/Aids and related issues in Seychelles and explore how government agencies and parastatals can develop closer working practices with non-governmental organisations, especially Haso, to deliver on national policy objectives so as to improve the health and wellbeing of all Seychellois.
Mr Freminot said Haso initiated this meeting to once again highlight the importance of the fight against the HIV/Aids pandemic and get the chief executives to educate and help provide the best care possible to those infected.
"Statistics show that the prevalence of HIV/Aids is continuing to increase in our country with mostly our young and productive people being infected," said Mr Freminot.
We need to free people infected with HIV or living with Aids from the stigmas which too often are more unbearable than the disease itself, he said.
He added that leaders have realised it is vital to ensure access to the best possible care and support to people living with HIV/Aids.
"We are seeking the chief executives' commitment to develop strong partnership to prevent new infections through comprehensive behaviour change in all our communities," he said.
Mr Freminot added that as leaders the chief executives must understand their employees who have been infected and give them all the support they need.
During the workshop, Haso member Georgette Furneau stressed on the increased number of people who have been infected and also those who have Hepatitis C. She said a study is underway and results will be out soon.
She added that the government and the civil society are doing their best to educate the population and that while condoms are available for free, the pandemic is still on the rise.
Consultant Benjamin Vel spoke about human rights issues, and HIV and Aids and how to mitigate their impact.
Chief executives were then able to voice out their opinion on the issue and also on other concerns such as sex workers and drugs.
The workshop was held under the theme 'Fostering and consolidating government of Seychelles and civil society partnership'.