Lion's club hosts lunch for deaf pupils and teachers
21-January-2012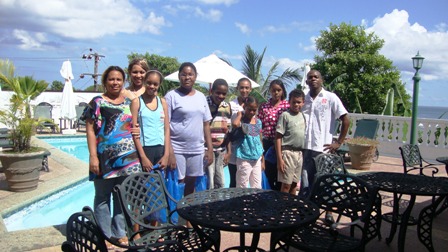 During the lunch, which took place last Friday, Anita Gardner, the chairperson of the Association for People with Hearing Impairment (Aphi), thanked Mr Darad and other club members for this memorable occasion.
"Our pupils have been blessed with many gifts this year and among them this special lunch by the Lion's Club which I am sure will remain among the most memorable of them all," Mrs Gardner said.

She went on to explain that the Aphi is at present in talks to explore areas where the Lions could bring in their collaboration to improve the lives of deaf pupils.

She noted that she started talks with Mr Darad last year and he is very keen to apprise himself of Aphi's work and see how the Lions could help.
"I am very happy that we are now planning together to support the Ministry of Health to set up an early detection unit using special equipment which will then support our early childhood educational programmes," said Mrs Gardner.
She noted that to detect at an early stage if a child is deaf is very crucial for the child's development especially where language is concerned.
Mrs Gardner also said the LCPS is finalising the process to get an Ear Nose & Throat (ENT) consultant to Seychelles to assess the pupils' condition.
"We hope the fruitful collaboration with the LCPS and our other partners and supporters will continue," said Mrs Gardner.
Meanwhile Mrs Gardner wishes all the students and teachers a happy return to school on Monday.