Indian high commissioner gets acquainted with medical facilities
21-January-2012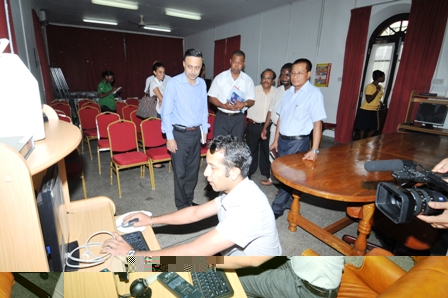 Accompanied by ambassador extraordinary and plenipotentiary of the Republic of Seychelles Waven William, Health Minister Erna Athanasius, Health Commissioner Jude Gédéon and other top health officials, the high commissioner was especially interested in the telemedicine centre gifted to Seychelles by India in 2009.
The centre has since been used for communication via satellite by local medical officers, who forward patients' recordings from such equipment as X-ray, MIR and ultra-sound and seek advice from medical centres abroad, such as Myott Hospital, in Chennai, India.
The telemedicine centre is also used for lectures conducted via satellite, mainly in the afternoon.
The room is also used for continued health education on Friday afternoons.
Mr Darlong also visited the Sheikh Khalifa diagnostic centre to learn more about the medical facilities available locally and see how India can further help Seychelles.
Several Indian doctors already serve in various clinics here, while others are present in more specialised fields at the diagnostic centre.