Seychelles launches new campaign at Spanish tourism fair
21-January-2012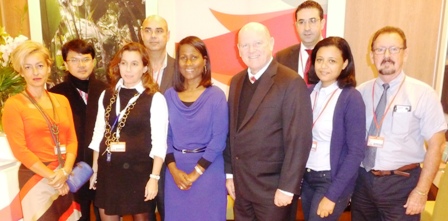 The new campaign is a reflection of Seychelles' determination to further raise its profile on the international stage at a time when it is facing the twin challenge of recession in several of its core European markets and Air Seychelles' decision to stop flying to Europe.
"We must not forget that tourism is an industry where perceptions play a strong role in moulding consumer opinion," said Seychelles Tourism Board (STB) chief executive Alain St Ange.
"Seychelles still suffers from the perception of being an expensive destination and this, at such a time, is not to our advantage," he said.
"We must continue to do our best to maintain Seychelles' image, reflecting the wide choice of accommodation options now on offer and that Seychelles remains accessible to travellers despite Air Seychelles' decision to stop making flights to Europe," added Mr St Ange.
The new tourism campaign shows Seychelles' varied accommodation choices for visitors, ranging from the pampering comfort of 5-star resorts and the exclusivity of island resorts to the homely charms of small hotels, Creole guesthouses and self-catering establishments.
"Today's accommodation options reflect not only the growing diversity of our product, but also how Seychelles has something to offer for every budget," Mr St Ange stressed.
'The Seychelles Islands…accessible as never before' campaign also puts forward direct accessibility from Europe to the country with the introduction of a direct flight from Italy by Blue Panorama Airlines starting February 14, 2012 and two non-stop flights by Air Austral starting in March 2012.
Ethiopian Airlines is also expected to start flying to Seychelles through its global network – Africa, Europe, Americas and the Far East – on April 1, 2012.

These services are over and above the existing partnerships the country has with Emirates Airline (12 flights a week to Seychelles), Qatar (seven flights per week to Seychelles), Etihad Airways (four flights a week to Seychelles), Condor's once a week non-stop flight from Frankfurt to Seychelles, Kenya Airways' twice-a-week flights to Seychelles and with their partnership agreements with KLM and Air France, and Air Seychelles' flights to Mauritius and South Africa.
"Our new stance perfectly echoes the precepts of Seychelles' brand of tourism, in which small and independent operators have a role to play in strengthening Seychelles' appeal to a broader spectrum of consumers," said Mr St Ange.
Representatives from Mason's Travel, Seychelles Connect and Raffles Resort of Praslin joined the STB at the FITUR trade fair in Madrid.

The tourism board's delegation was headed by Mr St Ange and comprised Bernadette Willemin, the board's European director; Monica Gonzalez, the board's manager in Spain; Glynn Burridge, the board's copy writer and consultant; and Ralph Hissen, the board's manager for international cooperation. "Mason's Travel, Seychelles Connect and Raffles Resort of Praslin joined the tourism board's efforts to consolidate the Seychelles market in Spain.

They want that business and believe they are prepared for the Spanish market. We thank them for their support and for being at FITUR 2012," noted Mr St Ange.