STB and Blue Panorama Airlines in marketing strategy talks
21-January-2012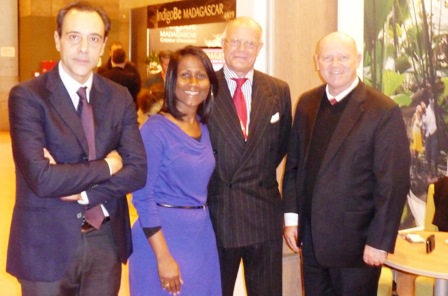 STB chief executive Alain St Ange and Bernadette Willemin, STB's director for Europe, held discussions with Franco C.B. Pecci, chairman and chief executive of Blue Panorama Airlines, and the company's vice-president sales, Remo Della Porta, at the FITUR Spanish tourism fair as Seychelles looks to increase air access to the country after Air Seychelles stopped flying to Europe earlier this month.
Blue Panorama has confirmed it will start a weekly non-stop direct flight to Seychelles from Rome and Milan effective February 14, 2012. From July, the airline will increase its number of flights weekly to two.
"In these challenging times when Air Seychelles' decision to stop flying to Europe has created a vacuum in air access in some of our core markets, it is essential we quickly move to fill this gap and keep Seychelles very much in European consumers' sights," said Mr St Ange.
The meeting with the Blue Panorama Airlines delegation forms part of STB's strategy to secure direct flight to Seychelles from Europe.
The STB had also confirmed that discussions with Air Austral are now in the final stage regarding two direct flights between Paris and Seychelles, expected to start in March 2012.