Emirates and STB launch drawing competition for 2012 carnival
21-January-2012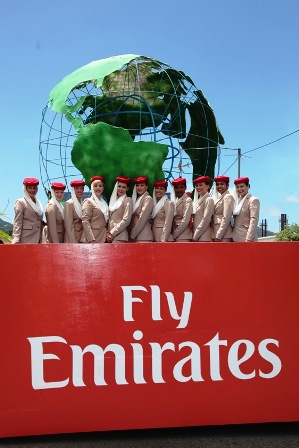 Pupils aged between six and 12 years are being invited to depict the Emirates float for the 2012 carnival in a drawing, according to the theme: "Mix of Cultures".
Entries should feature dancers from South America and Asia, among others.

The design of the Emirates float will actually be inspired from the winning drawing.
Oomar Ramtoola, Emirates' manager for the Indian Ocean, said: "We are extremely pleased to launch this competition in Seychelles. It is even more exciting as it entices the involvement of young Seychellois."
"Emirates supported the Carnaval International de Victoria last year and we recently announced that we will be the official airline for the 2012 carnival. This drawing competition is yet another demonstration of our involvement in this major event," he added.
Alain St Ange, chief executive of the STB, on his part said that Emirates' idea to involve the schools of Seychelles in designing their 2012 carnival float is a welcome move.
"The carnival staged in Seychelles jointly by the Vanilla Islands of Seychelles and Reunion under the slogan 'Melting Pot of Cultures' will be consolidated only if the youths of our islands are involved. Emirates is giving the youth of Seychelles ownership of developing ideas that will be seen as the float of the carnival's partner airline. It is a great move and the STB commends the initiative," said Mr St Ange.
All entries must reach Emirates' office at the following address by February 6, 2012:
Caravelle House
5th June Avenue and Manglier Street
PO Box 152, Victoria
Mahe, Seychelles
Entries must include the name, age and class of the pupil taking part as well as the name of the school he/she is representing.

Only one entry per contestant is allowed.

With regard to the size of drawings, A4 or A3 size will be accepted.
The Jury will be composed of Mr St Ange, Mr Ramtoola and Denise Rassool, sales manager, Emirates Seychelles.
The name of the winner will be announced on February 10, 2012.