Sonny D on Aids awareness tour
21-January-2012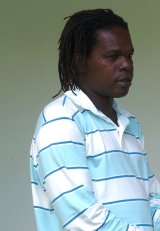 The artist has chosen the English River district, where he hails from, to start his tour on Sunday February 26.

Popular singers like Daddy Kool, the UG Boys, Eastside Master, Quincy Production, youths of the English River district and Singers of Charity will join Sonny D for the first show inside the English River community centre.
There will also be prayers, talks, poem recitals and dance performances.
Sonny D says it is time for everyone to come together in the fight against HIV/Aids.
"HIV/Aids concerns all of us and it is time we come together to fight this pandemic. I call on all singers and businesses who wish to join this cause to contact us on 2541516 or at the following email address: This email address is being protected from spambots. You need JavaScript enabled to view it. ," says Sonny D.
Details of the other stops will be made available by the singer in due course.