Theme days stress importance of specific environmental issues
23-January-2012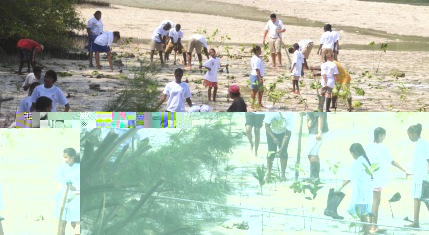 Some of these special days have been designated by international bodies or organisations such as the United Nations Food and Agricultural Organisation (FAO) and are celebrated internationally, for example World Wetlands Day, Earth Day, Biodiversity Day, Ozone Day, while others relate directly to national initiatives, like Tree Planting Day and Subios.
Schools, other organisations and businesses are encouraged to include these special days on their annual calendar so as to raise awareness and sensitise their staff and the general public on specific environmental issues. They can also take part in activities being organised locally or internationally to commemorate these days.
On January 31, Seychelles celebrates Protected Area Day. This day recognises the importance of protected areas in conserving and protecting our natural heritage.
This is followed two days later, on February 2, with the international recognition of the role of wetlands on our planet, and that is World Wetlands Day. The date coincides with the signature of the Ramsar Convention on Wetlands, which aims to protect and conserve wetlands worldwide. This year's theme is Wetland Tourism, a Great Experience. Already activities have been planned with hotels and school children to commemorate the day.
In March two important theme days are celebrated. First, on March 22, is World Day for Water under the international theme Water and Food Security and the following day, March 23, the world celebrates Meteorological (Met) Day. World Meteorological Organisation (WMO) designated Met Day on March 23 because it was on this day in 1950 that the first Met convention was held.
Another which is now growing in popularity and started in Australia in 2007 is Earth Hour, which is now held on March 26. This is the turning off the lights for one hour, as a means of raising awareness against climate change.
On April 22, 1970, about 20 million people in the United States celebrated first Earth Day with the aim of getting volunteers to initiate actions towards a sustainable future. This year's theme is Mobilise Earth. One month later, on May 22, is the celebration of International Biodiversity Day, an opportunity to strengthen people's commitment and actions for the conservation of the world's biological diversity. This year, the Convention on Biological Diversity (CBD) has declared the theme Marine Biodiversity.
One major United Nation theme day is the World Environment Day (WED) celebrated around the world on June 5. 'Green Economy: Does it include you?' is this year's theme. WED was established by the UN General Assembly in 1972 to mark the opening of the Stockholm Conference on Human Development which resulted in the creation of the UN Environment Programme (Unep). It is aimed at raising awareness on current environmental issues and encourages people to take actions towards our environment.

Three days later, on June 8, the world celebrates another important theme day, that is World Ocean Day.
The UN has also declared June 17, as World Day to Combat Desertification and Drought.
After a quieter July and August, comes a busy September with two important international theme days. On September 16, the world celebrates International Day for the Preservation of the Ozone Layer. It commemorates the date of the signing in 1987 of the Montreal Protocol on substances that deplete the ozone layer.
The other big environment event in September is Clean Up the World (CUW) which is celebrated on the weekend of mid-September. Started in Australia in 1989, CUW was officially launched by the Unep in 1993.
Local Tree Planting Day is celebrated on September 27.
In October, three theme days are celebrated, starting on October 4 with Habitat Day, October 12 with International Day for Natural Disaster Reduction and the third, World Food Day which is celebrated on October 16.
In November another local theme weekend is celebrated and that is the Subios Underwater Festival which will run from November 23-25 under the theme People and the Ocean, Striving for Sustainable Partnership.
For most of these theme days the environment department will be working with all its partners, especially schools, NGOs and other community groups and private businesses to organise activities around the theme chosen.
Should anyone want to know more about these theme days and what is being organised please contact the Public Education and Community Outreach (Peco) Division in the environment department on 4670500.
Should an organisation or a business wish to organise something special or would like to contribute towards activities organised on these special days, please contact Peco on the same number.
Contributed by the Department of Environment