Sports Awards of the Year 2011-Record sixth title for Julie, Camille joins family of champs
23-January-2012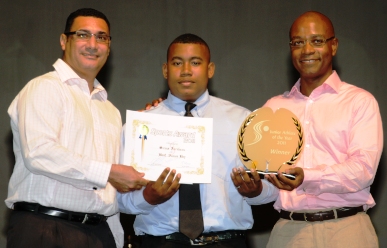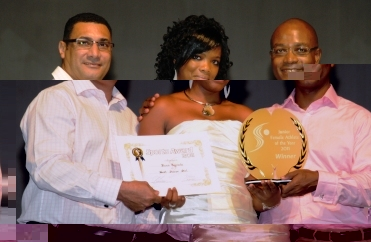 Laser sailor Allan Julie and badminton player Alisen Camille are the best male and female athletes for the sporting year 2011, while weightlifters Sirous Farabeau and Rena Agricole are best in the young category.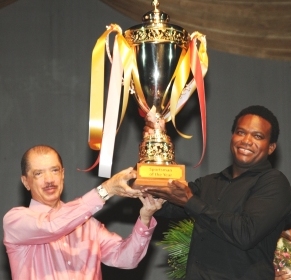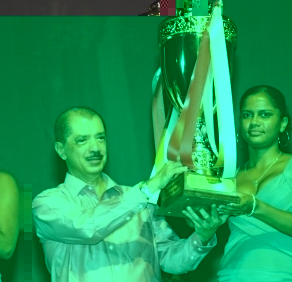 The 2011 title is a record sixth for Julie, while Camille is the third athlete from the family of champions to win the prize. Her uncle, ex-boxer Rival Payet (formerly Cadeau), won the title four times in 1989, 1993, 1994 and 1995, and cousin and fellow badminton player Juliette Ah-Wan hoisted it twice in 2000 and 2007.
The crowning ceremony took place on Friday at the International Conference Centre in the presence of President James Michel, First Lady Natalie Michel, Vice-President Danny Faure, cabinet ministers, family members of the athletes and sponsors among other guests.
Gold medallist at the 8th Indian Ocean Island Games and the 10th All-Africa Games, Julie finished ahead of badminton player Georgie Cupidon who took the runner-up spot. Badminton player Steve Malcouzane finished third overall, high jumper William Woodcock fourth and Laser sailor Rodney Govinden fifth.
As Sportsman of the Year, Julie received the floating cup from President Michel, a certificate, cash prize of R15,000 sponsored by Seychelles Breweries, a return ticket to any European destination from Qatar Airways and a telephone set sponsored by Cable & Wireless.
Winner of four medals – a gold, two silver and a bronze – at the 8th Indian Ocean Island Games and double silver and bronze medallist at the 10th All-Africa Games, Camille finished ahead of fellow colleague and doubles partner Cynthia Course. Swimmer Shrone Austin finished third ahead of fourth-placed high jumper Lissa Labiche and Sportswoman of the Year 2010 Janet Georges was ranked fifth.
Like Julie, Camille received received the floating cup from President Michel, a certificate, cash prize of R15,000 from GS Pillay, a return ticket to any European destination sponsored by Qatar Airways and a telephone set sponsored by Cable & Wireless.
In the young group, weightlifter Farabeau finished ahead of boxer Keddy Agnes who finished as second best. Young tennis player Damien Laporte was third overall, ahead of throws specialist Dean William (fourth) and swimmer Adam Viktora (fifth).
Best female athlete in the youth category Agricole finished ahead of swimmer Aurelie Fanchette who was second overall. Table tennis player Christy Bristol was third, ahead of throws specialist Marie-Helen Rose (fourth) and volleyballer Petrina victor (fifth).
As prizes the young athletes received a trophy, certificate and cash prizes of R5,000 (winner), R4,000 (runners-up), R3,000 (third place finishers), R2,000 (fourth place finishers) and R1,000 (fifth place finishers) from Cable & Wireless. Cable & Wireless chief executive Charles Hammond and the company's director for Human Resources and Administration Thomas Dauban presented them with their prizes.
Anse Aux Pins and Anse Royale won the titles for best primary and secondary schools for the third consecutive year, while the Maritime Training Centre retained the title for post-secondary institution introduced in 2010.
There were also individual awards for people who have contributed greatly towards the local sports throughout 2012. Philip Albert received the award for best volunteer, while the best technical official award went to Lucas Georges. Weightlifting coach William Dixie retained the best coach award won in 2010, while the Seychelles Weightlifting Association was named the best federation.
Ex-chairman of the Seychelles Football Federation Suketu Patel received the Plaque of Merit for his meritorious service to the cause of both local and international football.

All athletes chosen as the best by the sporting federations and associations received R3,000 and a certificate.

………………….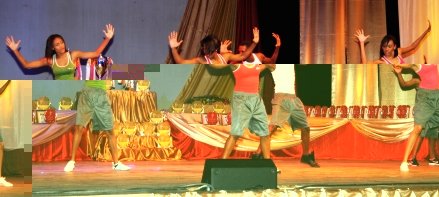 What the champions said:
Allan Julie
"I am very happy to win the award for the sixth time even though I was not really expecting to finish on top as I did not compete in many competitions last year. However, I had two very good results at the Indian Ocean Island Games and the All-Africa Games and the jury decided that they were enough to grant me the title. As for 2012, I will keep on aiming higher and will be all out for a seventh title."
Alisen Camille
"First of all, I am very happy and very proud of myself for the achievement. I was not expecting to be the overall best, but I am proud I made it. I performed well at the Indian Ocean Island Games and the All-Africa Games. I guess winning medals at the All-Africa Games featured among the main criteria for the award. I would like to thank my cousin Juliette Ah-wan for her support, my coaches, my family and all my badminton colleagues for their help and support. I will be all out in 2012 to defend the title."
Sirous Farabeau
"Firstly I will thank my coach who has been pushing me all throughout since I started the sport and all those who have backed me up. When I learned that I was in the top five it was for me already a great achievement and when it came to the final two, I was shaking in my seat as I was very nervous. I am very happy I won the award and will keep on training hard to retain it this year."
Rena Agricole
"It is a moment of great joy for me today and I would like to thank all those who have been behind me, especially my coach, my family and my sister (Clementina Agricole who is out with cancer) who I'm certain will be back in the sport. I had very high hopes and I was expecting to win, especially after my good performance at the African senior champions held in conjunction with the Commonwealth youth, junior and senior championship. I trained hard throughout the year and today I've reaped the benefit of my hard work. I will be all out to retain my title in 2012."
R. D.