SBC wins R25,000 top prize for 'best decorated' business
24-January-2012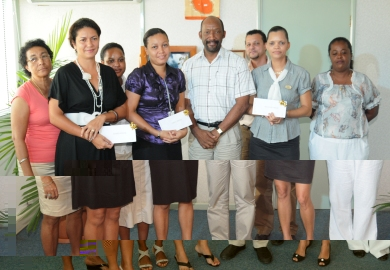 Cindy Wirtz accepted the prize on SBC's behalf during a small prize-giving ceremony held at the Mayor's office in Victoria last week.
The ceremony was attended by Community Development, Youth and Sports Minister Vincent Meriton, members of the jury, district administrators and prize recipients.
The runner-up prize of R15,000 was awarded to Kids' Stuff, while Home 2 Office took the third prize of R10,000
This is the third time such a contest has been held and Mr Meriton said he is happy with how it turned out.
He noted that some changes will be made to this year's contest.
"We will let the public know what will be different this year as soon as discussions are finalised," he said.